All-rounder Shahid Afridi has pulled out of the Australian Big Bash Twenty20 league even though the Pakistan Cricket Board (PCB) has had a change of heart about allowing its players to take part.
Afridi, who had been due to play for Sydney Thunder, has decided to remain in Pakistan in an attempt to prove his form for the tour of India, which starts on December 22.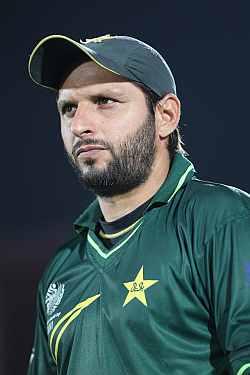 "I have decided to give preference to playing in Pakistan and regaining my form," Afridi said.
Last week, the PCB said they had stopped Afridi, off-spinner Saeed Ajmal and batsman Umar Akmal from participating in the Australian competition because it clashed with Pakistan's T20 league which begins on December 2.
"The board has, on a request from Cricket Australia, decided to allow these players to go and play in the Big Bash," PCB spokesman, Nadeem Sarwar told Reuters.
"The players will go at the fag end of the domestic competition," he added.
Umar is signed to the Sydney Sixers and Ajmal the Adelaide Strikers.
Sarwar said the players would return to Pakistan to attend the training camp for the Indian tour of two T20 matches and three one-day internationals.