A staunch critic of the Umpire Decision Review System (UDRS), Indian skipper Mahendra Singh Dhoni on Thursday did a volte-face and backed the controversial innovation saying that it would have to be used if the standard of umpiring keeps going down.
The Indians were at the receiving end of some contentious umpiring calls in the opening Test against New Zealand in Ahmedabad, the most noticeable being VVS Laxman's doubtful leg before dismissal just nine runs short of a hundred in the second innings.
Dhoni was critical of the standard of umpiring and called for some strong measures to check the mistakes.
"The standard of umpiring has gone down and we need to have strong measures to improve that," Dhoni said.
Dhoni, before the first Test, had expressed his unwillingness to support the system, saying he would not back it unless it is proved to be 100 per cent accurate.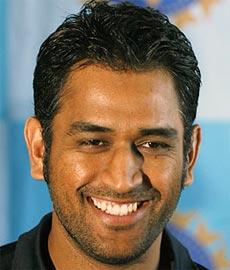 But on Thursday, while referring to Laxman's dismissal in the first Test at Motera, Dhoni said, "if the umpires continue to make wrong decisions, then it (ICC) would be left with no option but to go for the UDRS."
"But, as I have said earlier, I am not going to buy a life jacket that doesn't come with a warranty," Dhoni reiterated.
"At times you tend to make mistakes. The umpires are also most of the time thinking about over rates and player behaviour," he added.
It must be noted that the Board of Control for Cricket in India (BCCI) and many senior Indian players are not in favour of implementing the referral system ever since their failed experiment during the tour of Sri Lanka in 2008.
Virender Sehwag has been the only exception as the dashing India opener had earlier expressed his willingness for the UDRS.
The International Cricket Council (ICC) has been trying in vain to convince the BCCI to implement the system during all international matches in the country. But they now might have to rethink their approach to the referral system.