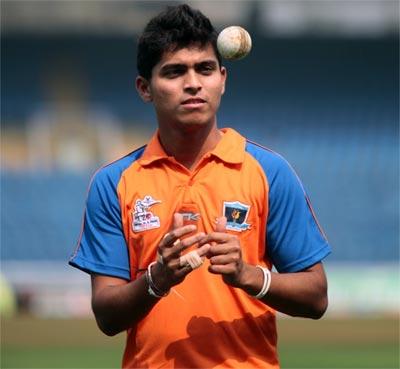 Maharashtra's leading wicket-taker Akshay Darekar was a four-year toddler when the state team last played in the Ranji Trophy final, which they lost to Punjab.

Twenty-one years later, he has his work cut when Maharashtra take on Karnataka in the title clash, starting in Hyderabad on January 29.

The 25-year-old left-arm spinner is in a rich vein of from, having taken 32 wickets from 10 matches, at an average of 28.40.
He is all fired up for the contest and optimistic that he and his teammates will rise to the occasion.
"We are confident of doing well in the final," he said.

"But, to win the title, we have to ensure that we think positively and play with the same kind of attitude as we did in all the previous matches.
"Like [we have to] be very professional, be mentally strong and play hard and aggressive," he said on Monday, on the sidelines of his match for Jain Irrigation against Andhra Bank in the 10th All India Dr D Y Patil T20 Cup, at the D Y Patil Stadium, in Nerul, Navi Mumbai.

A resident of Shivaji Park, Dadar, the nursery of Mumbai cricket, Darekar will take no further part in the tournament, even though Jain Irrigation is virtually assured of qualifying for the quarter-finals, scheduled for January 30.

The former India 'A' player is a picture of modesty when dwelling on his bowling exploits for Maharashtra.
"So far I have taken the most wickets for Maharashtra, but I shared the burden equally with my other colleagues, Samad Fallah (31 wickets), Shrikant Mundhe (30) and Anupam Anklecha, who has supported us in picking wickets when the team needed them," said the humble Darekar.

He attributed Maharashtra's success to the batting department and coach Surendra Bhave.
"All our batsmen are in top form and have played match-winning innings. Kedar Jadhav has crossed 1,000 runs this season and opener Harshad Khadiwale is on the threshold of crossing the milestone. Our coach, Surendra Barve (Sir), is very good and has infused confidence into us and the belief that if we try hard we can win," he said.
On the All-India Dr. D Y Patil T20 Cup, Darekar pointed out that it is a very good tournament in which all Indian players participate.
"This is one of the tournaments in which all the leading players take part. So it gives a good platform for youngsters to rub shoulders with the best and show their talent. They can also show what they are capable of," he said.