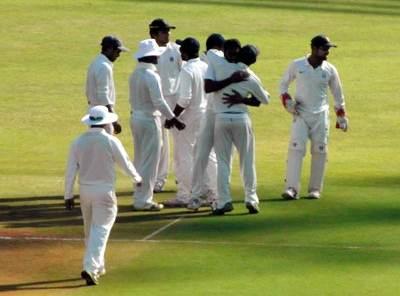 Maharashtra needs 224 runs to make it to the semi-finals after Anupam Sanklecha leads a fightback, claiming four Mumbai wickets for 57 runs. Harish Kotian reports
Maharashtra's pacers brought their team back into the contest as they bundled out Mumbai for a paltry 129 in the second innings, on Day 3 of the Ranji Trophy quarter-finals, in Mumbai on Friday.
Chasing 252 for victory, Maharashtra lost a wicket in the last over of the day to finish with 28 for 1 in 8.4 overs in their second essay.
Opener Chirag Khurana was caught in the slips off veteran Zaheer Khan after scoring 17, while Harshad Khadiwale was unbeaten on six.
Earlier, Anupam Sanklecha took four for 57 to lead Maharashtra's superb fightback with the ball. He got good support from Shrikant Mundhe and Samad Fallah, who claimed three for 26 and three for 45 respectively.
The top order failed to rise to the occasion as Mumbai lost wickets at regular intervals against the new ball in the second innings. Shardul Thakur, who took six wickets for 86 runs in the morning, saved the blushes with a brisk knock of 33.
First innings centurion Surya Kumar Yadav also offered solid resistance with 33 but the rest of the batsmen threw their wickets away rather cheaply.
Earlier, resuming the third day on 219 for 7, Maharashtra's lower order batsmen Srikanth Mundhe and Akshay Darekar frustrated the hosts with dogged batting in the first hour.
Mumbai took the second new ball straightaway after 80 overs and Thakur struck with the very first delivery, which also completed his five-wicket haul.
Mundhe chased a wide delivery only to edge it and was caught behind by wicketkeeper Aditya Tare for 38. He was out after putting on 73 runs for the eighth wicket.
A few overs later, Darekar, who scored 36, was caught down the leg side by Tare off Javed Khan.
Thakur ended the Maharashtra innings with the wicket of Anupam Sanklecha (0), who was caught at mid-off. The pacer finished with excellent figures of six for 86 in 19.3 overs, while Khan claimed two for 49 as the visitors lost their last three wickets for 16 runs.
Mumbai then got off to a disastrous start in their second innings. The experienced Wasim Jaffer was dismissed in the first over, caught in the slips off Sanklecha for a duck.
Kaustubh Pawar's poor run continued as he perished in the next over after scoring just five, caught in the slips off Samad Fallah.
Maharashtra's pacers – Sanklecha and Fallah – made most of the new ball, generating a lot of movement and bounce.
Vinit Indulkar (4) was done in a beauty from Sanklecha; the ball moved away at the last moment and took the edge through to the keeper.
Abhishek Nayar was dismissed off the very next delivery, as he also got a nick and was taken by Chirag Khurana at second slip.
Aditya Tare made 16 before he also joined the procession, caught at second slip off Fallah, as Mumbai slipped to a lowly 29 for five in the tenth over.
Yadav, who hit a century in the first innings, again came out with a positive attitude. He hit five boundaries to quickly race to 24, which was inclusive of five boundaries, while Iqbal Abdullah also continued his good batting form with another useful knock.
Abdullah (27) slashed at a wide delivery from Mundhe but also got the edge and was caught at second slip after putting on 48 runs for the sixth wicket with Yadav.
Mundhe bowled an extended spell of 10 overs, during which he claimed three wickets to leave Mumbai in further strife.
Yadav, who scored 33, was trapped leg before wicket and Zaheer also fell in the same fashion to Mundhe.
Shardul Thakur waged a lone battle, slamming 33, including two sixes and a four, before he was caught behind off Fallah.
Mumbai were bundled out for a lowly 129, setting Maharashtra a challenging 252 for victory with two more days to go.
Sanklecha was the best bowler for the visitors, as he claimed four for 57 in 14 overs, while Fallah and Mundhe took three wickets each.
Maharashtra's openers survived a testing opening spell from Zaheer and Shardul before the former struck a vital blow with the last ball of the day.
Khurana went after a wide delivery only to edge it to Jaffer in the slips for 17. Khadiwale was unbeaten on six.
The visitors need 224 runs with two days remaining to make it to the semi-finals.
Scorecard
Mumbai (1st innings): 402 all out (Surya Kumar Yadav 120, Vinit Indulkar 82, S Fallah 4-130).
Maharashtra (1st innings): (overnight score 219-7):
Harshad Khadiwale c Indulkar b Thakur 4 (11b, 1x4)
Rohit Motwani lbw b Thakur 0 (7b)
Vijay Zol b Zaheer 15 (22b, 2x4)
Kedar Jadhav c Tare b Dabholkar 51 (66b, 9x4)
Ankit Bawne c Tare b Thakur 84 (113b, 12x4, 2x6)
Sangram Atitkar c Indulkar b Thakur 8 (23b, 1x4)
Chirag Khurana c Pawar b Khan 21 (35b, 4x4)
Srikanth Mundhe c Tare b Thakur 38 (112b, 4x4)
Akshay Darekar c Tare b Khan 36 (105b, 5x4)
Anupam Sanklecha c Dabholkar b Thakur 7 (16b, 1x4)
Samad Fallah not out 0 (1b)
Extras: (nb:2, w:3, b:8, lb:2) 15
Total: (all out in 84.3 overs) 280
Fall of wicket: 1-1 (Motwani, 1.4), 18-2 ( Khadiwale, 4.4), 3-24 (Zol, 5.3), 4-139 (Jadhav, 29.4), 5-161 (Bawne (37), 6-170 (Atitkar, 41.3), 7-191 (Khurana, 48.1), 8-264 (Mundhe, 79.1), 9-280 (Darekar, 82.5), 10-280 (Sanklecha, 83.3).
Bowling: Zaheer Khan 17-5-51-1, Shardul Thakur 19.3-0-86-6, Javed Khan 14-1-49-2, Abhishek Nayar 8-1-20-0, Vishal Dabholkar 17-6-58-1, Iqbal Abdullah 9-5-6-0.
Mumbai (2nd innings):
Kaustubh Pawar c Atitkar b Fallah 5 (13b, 1x4)
Wasim Jaffer c Khurana b Sanklecha 0 (3b)
Aditya Tare c Khurana b Fallah 16 (28b, 3x4)
Vinit Indulkar c Motwani b Sanklecha 4 (14b, 1x4)
Abhishek Nayar c Khurana b Sanklecha 0 (1b)
Surya Kumar Yadav lbw b Mundhe 33 (47b, 5x4)
Iqbal Abdullah c Atitkar b Mundhe 27 (31b, 6x4)
Shardul Thakur c Motwani b Fallah 33 (60b, 1x4, 2x6)
Zaheer Khan lbw b Mundhe 4 (7b, 1x4)
Javed Khan b Sanklecha 6 (10b, 1x4)
Vishal Dabholkar not out 0 (15b)
Extras: (lb:1) 1
Total: (all out in 38.1 overs) 129
Fall of wickets: 1-0 (Jaffer, 0.3), 2-10 (Pawar, 1.6), 3-25 (Indulkar, 8.2), 4-25 (Nayar 8.3), 5-29 (Tare, 9.2), 6-77 (Abdullah, 19.3), 7-88 (Yadav, 23.3), 8-100 (Zaheer 27.3), 9-115 (Khan, 30.2), 10-129 (Thakur, 37.1).
Bowling: Mundhe 10-1-26-3, S Fallah 14.1-3-45-3, Sanklecha 14-3-57-4.
Maharashtra (2nd innings): (Target: 252)
Harshad Khadiwale not out 6 (29b)
Chirag Khurana c Jaffer b Zaheer 17 (24b, 3x4)
Extras: (nb:1, lb:4) 5
Total: (for one wicket, in 8.4 overs) 28
Bowling: Zaheer Khan 4.4-2-5-1, S Thakur 4-1-19-0.
Image: Maharashtra players celebrate the fall of a Mumbai wicket
Photograph: Harish Kotian