Left-arm seamer Samad Fallah exposed the poor technique of Bengal's batsmen with some incisive swing bowling to put Maharashtra in the driver's seat on the first day of their Ranji Trophy semi-final in Indore on Saturday.
Fallah wrecked havoc with the new ball claiming seven for 58 in 16.4 overs as Bengal were shot out for a paltry 114 in 41.4 overs. In reply, Maharashtra reached 164 for four at stumps taking their first innings lead to 50.
While the Bengal team management did their homework about the trio of Harshad Khadiwale (28), Vijay Zol (1) and Kedar Jadhav (40), coach Ashoke Malhotra and his side had no planning for Maharashtra's pacers led by Fallah.
The Bengal batsmen had no clue while facing the Maharashtra left-armer, who picked up his 11th five-wicket haul in first-class cricket.
With six Bengal batsmen failing to reach double figures and five of them scoring below five runs, it was evident how heavily the Bengal batting depended on Laxmi Ratan Shukla (14) and Wriddhiman Saha (29) -- both of whom failed on the day.
Such was Fallah's effect that he got the ball to swing both ways and most of the Bengal players looked clueless as to which delivery was coming in and which ones were leaving the bat.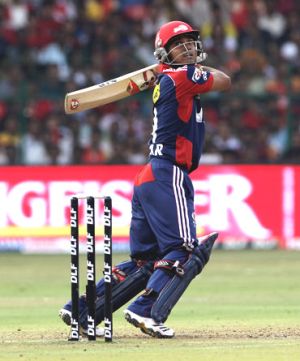 Debutant left-handed opener Kaushik Ghosh got one that swung away and he offered a simple catch to Jadhav at first slip. Abhimanyu Easwaran (11) and veteran opener Arindam Das (37) batted with a negative mindset as they crawled to 16 for one in 12 overs.
With his tail-up, Fallah came round the wicket to fire in a fuller delivery that caught Easwaran plumb in-front. Off the first delivery of his next over, left-hander Sudip Chatterjee (0) got an unplayable delivery that jagged back in. Bengal were 21 for three.
Das and Saha then tried some damage control with a 44 run partnership. Saha, India's reserve Test specialist, was uncomfortable against Fallah and finally gave a simple catch to glovesman Rohit Motwani having hit six fours in his 40-ball knock.
Skipper Shukla hit a couple of fours but when Fallah, coming from round the stumps, got one to straighten and kick up after pitching, the ball kissed the shoulder of his blade to land into Jadhav's safe hands.
Coming out of lunch at 83 for five, it was seamer Dominic Joseph who bowled Sandipan Das (2) with an off-cutter. Arindam, who had seven boundaries in his 108-ball knock, finally got one from Fallah that came in and disturbed the woodwork.
He then got Sourav Sarkar and Shib Shankar Paul to complete a seven-wicket haul while Anupam Sanklecha got Sauarshish Lahiri shouldering arms.
Having dismissed Bengal for a cheap total, Maharashtra openers Khadiwale and his opening partner Chirag Khurana (48) hammered the Bengal bowlers, scoring 74 off only 15 overs going into tea.
Finally, in the last session of the day, Bengal got four wickets largely due to the propensity of Maharashtra batsmen to go for their shots. Jadhav, in particular, made a mockery of Bengal's bowling repeatedly driving as well as flicking anything on the legs.
With another 150 runs on the board, Maharashtra will go for the kill as they would eye an innings victory against an inept and inexperienced Bengal batting that has crossed 400 only once this season.
Scoreboard
Bengal 1st innings
K Ghosh c Jadhav b Fallah 1
A Das b Fallah 37
A Easwaran lbw Fallah 11
S Chatterjee lbw Fallah 0
W Saha c Motwani b Khadiwale 29
LR Shukla c Jadhav b Fallah 14
S Das b Joseph 2
S Lahiri b Sanklecha 4
S Sarkar c Darekar b Fallah 8
A Dinda not out 0
SS Paul b Fallah 0
Extras (lb-2, nb-1, pen-5) 8
Total (All out; 41.4 overs) 114
Fall of wickets: 1-2, 2-21, 3-21, 4-65, 5-83, 6-94, 7-102, 8-110, 9-114.
Bowling: Fallah 16.4-3-58-7, Sanklecha 12-5-21-1, Joseph 10-4-18-1, Khadiwale 3-0-10-1.
Maharashtra 1st innings
H Khadiwale b Shukla 28
C Khurana c Saha b Dinda 48
V Zol lbw Shukla 1
K Jadhav c & b Dinda 40
A Bawne batting 37
R Motwani batting 8
Extras (nb-2) 2
Total (For 4 wickets; 44 overs) 164
Fall of wickets: 1-78, 2-78, 3-91, 4-141.
Bowling: Dinda 12-4-45-2, Sarkar 10-2-44-0, Shukla 12-1-45-2, Paul 9-4-23-0, Lahiri 1-0-7-0.