The middle-order's tendency to collapse and lack of a fifth bowler are two areas of concerns for Royal Challengers Bangalore ahead of their Indian Premier League match against Pune Warriors in Bangalore on Tuesday.
After the victory over Delhi Daredevils, things haven't gone quite well for RCB skipper Daniel Vettori, as his team lost three matches in a row.
The New Zealander is yet to find an option to fill the fifth bowler's slot.
The middle-order, especially Indian batsmen Virat Kohli, Saurabh Tiwary and Cheteshwar Pujara, hasn't fired on all cylinders consistently.
The lack of a fifth bowler in the side has been exploited by the opposition.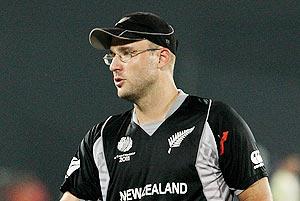 RCB fans not only witnessed this against Chennai Super Kings, but in Sunday's game against Rajasthan Royals, who plundered over 100 runs in the last six overs.
Vettori, however, is hoping Chris Gayle plays a part as a fifth bowler, to either take wickets or contain runs. But the West Indies ace could not live up to expectations, conceding 21 runs in his only over on Sunday.
The time is probably ripe for mercurial Sri Lankan opener Tillakratne Dilshan to get a chance against the Warriors on Tuesday.
Even more, Vettori is concerned about the middle-order collapse in all the matches, except the opening game against DD, in which South African AB de Villiers rescued the team with a flamboyant 60.
The Indian batsmen would like to put their hands up and consolidate on solid starts.
Kohli has looked good, but hasn't capitalised on starts. He will look to reverse the trend against the Warriors.
Vettori, for a change, would like to turn tables on Pune by opting to bat first -- provided he wins the toss – on a strip, he thinks, would help the batsmen and make life difficult for the team chasing.
On the other hand, though Warriors are missing the services of key players like Yuvraj Singh and Graeme Smith, current skipper and former India captain Sourav Ganguly has inspired the team in this edition of the IPL.
Under his leadership, they have lost just one match, against Kings XI Punjab, but decimated Mumbai Indians and Chennai Super Kings convincingly. These victories have placed them in the second spot on the points table.
Pune will be hoping to continue their winning ways and are capable of finishing on top of the points table with quality players at their disposal.
Robin Uthappa, Jesse Ryder, Steven Smith and Marlon Samuels have fared well so far. Ganguly must be a very happy man to see Ryder coming into the groove with a magnificent match-winning, unbeaten 73 against CSK on April 4.
He will be even more satisfied if Manish Pandey, who had played a key role in the IPL before for different teams, fires in the next match.
Pune also have a decent bowling attack with pacers like Ashok Dinda, who took four wickets against Mumbai Indians in their first encounter. Wayne Parnel and Ashish Nehra, too, have chipped in with useful contributions.
As far as spin bowling options are concerned, Pune have plenty of variety. Rahul Sharma, who impressed one and all with his good show in the last IPL, has done well so far. He is ably supported by Murali Karthik, Samuels and Smith.