Mumbai Indians have decided to wait till before deciding whether Sachin Tendulkar, recovering from a finger injury, could take the field against Delhi Daredevils in an IPL clash at the Wankhede Stadium.
"He had a training session yesterday and hit the balls for 45 minutes to an hour. His finger seems to look pretty fine, but the guys will take a call on him tomorrow before the game," MI opener Richard Levi said at the pre-match media conference.
Tendulkar sustained the index finger injury in his right hand while trying to fend a snorter from Doug Bollinger of Chennai Super Kings in the lung opener at Chennai on April 4.
He later missed the team's three subsequent games, against Pune Warriors here on April 6, against Deccan Chargers at Vizag on April 9 and the previous game against Rajasthan Royals at home on April 11.
Tendulkar faced throw-downs from video analyst Dhananjay on Saturday and continued the process on Sunday too in the initial part of the training session.
Levi, who has opened with two other partners after launching the innings with Tendulkar in his IPL debut tie against Chennai and also picking the man-of-the-match award for his half ton, said it was important to communicate well with the batting partner.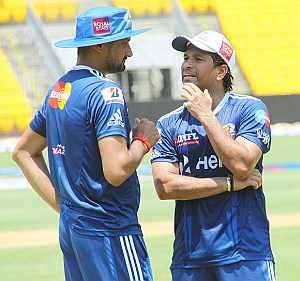 "If the communication is good, doesn't matter, whoever you are batting with is alright," he remarked about the scenario.
The South African, who hit T20 international's fastest 100 (off 45 balls) against New Zealand to come into the limelight, has had T Suman and Ambati Rayudu as opening partners after Tendulkar got injured.
Levi, who has not done much after his half century in his maiden IPL tie, conceded that in T20 it becomes difficult at times to maintain the consistency.
"Obviously, it's not going very well. You want to keep the form but if you see the nature of the game where I bat and everything and the role I have been given, consistency will always be an issue."
Batting on Indian wickets is a challenge, admitted the 24-year-old player.
"Mumbai (track) is not too bad, it has pace and bounce and you can hit through the line. But on Indian wickets, you generally should not over-commit with your feet movement."
Levi said it was a totally different experience for him when playing in front of a noisy and big crowd in the IPL as compared to home.
"I am learning how to play in completely different conditions. The wickets are completely different, the stadiums are massive and the crowds are insane. It's completely different from playing back home or anywhere else," he said.
Levi said he gets to learn small things from watching Mumbai team mates like Tendulkar and Rohit Sharma.
"Just to learn around the guys in the team -- you got Sachin and Rohit Sharma and the other world-class batsmen. You can pick up little things here and there and even the smallest thing can help you," he remarked.
Though they belong to the same nation, Levi said he had faced Morne Morkel of the Daredevils only once before in a competitive match.
"I faced him once which might be 8-9 years ago. I haven't faced him again since then. I have faced him a couple of times in the nets of the national side. It has always been fun with your mates around. He is a very good bowler with the ball seaming in South Africa, which is not the case in India," he observed.