Delhi Daredevils team mentor and former Test pacer T A Sekar said he always asks his bowlers to go for wickets and not worry about giving away runs in the ongoing Indian Premier League.
-Tendulkar set to return as MI take on Daredevils
"I tell the bowlers to go for wickets. I don't mind a bowler giving 10 or 14 runs (in an over). If he picks up two wickets he is as good as giving away (only) six runs (an over)," Sekar said at the Wankhede Stadium ahead of the Daredevils game against Mumbai Indians.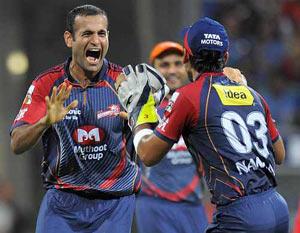 "Because there will be two new batsmen at the crease and I can use other bowlers, run up a few overs against the new batsmen and save my strike bowlers for the later half (of the innings).
"If you get two wickets in the first six overs, it's a very good achievement and even till eleven overs if you can get wickets then it's very good. It's not just a question of runs per over," added the 55-year-old former Tamil Nadu player who had been associated with Mumbai Indians for a couple of years as the team director.
He also defended the performance of Irfan Pathan who was expensive in the game against Royal Challengers Bangalore and said the Baroda all-rounder bowled very well in the Daredevils' previous game at home.
"Irfan went for a lot of runs against RCB but any bowler can go for runs in a T20 game. He bowled very well against Chennai and got the crucial wicket of Ravindra Jadeja. I think he is on the right track, moving the ball well and capable of getting wickets with the new ball.
"He also gives the team the balance. A couple of close decisions in the last match could have turned his bowling analysis better," said Sekar.
Pathan had conceded 0 for 47 in his four overs against RCB on April 7 and three days later made amends with 1 for 25 against CSK at the Kotla.
Sekar also hinted that Ross Taylor, the New Zealand captain, might get a look in after becoming fully fit following a surgery on his injured forearm.
"Ross Taylor is someone who you cannot keep out of the eleven. But we will have to see how best we can (do it), depending upon the wicket, the opposition," Sekar said.
Sekar said during the trading window, he was in constant touch with team captain Virender Sehwag and that's how they picked up the likes of Kevin Petersen, Mahela Jayawardene and Taylor.
Sekar felt his side had a clear edge with the new ball with a couple of them capable of touching 145kph.
"Umesh Yadav had a very good Australian tour. We have two very good express bowlers (Morkel and Yadav) bowling at 145-plus. That is an advantage," he said.
Sekar said when explosive Australian opener David Warner joins the squad, after his stint in the ongoing Test rubber in the West Indies, Kevin Petersen would be leaving for home and the team would have the same explosive strength in batting.
"Their entry and exit is overlapping, so at any point of time we will be able to maintain the same explosive (quality)," he said.