Rajasthan Royals skipper Shane Warne held his batsmen responsible for the team's embarrassing loss against Kolkata Knight Riders and said they had put up a kid's display with some "dumb" shots to be bundled out for a paltry score at the Eden Gardens in Kolkata on Sunday.
After Sunday's eight-wicket loss, Rajasthan have now suffered two consecutive losses at the hands of the Knight Riders in the ongoing Indian Premier League in a space of three days.
But Warne, who had inspired the side the to title in the inaugural season of the tournament, warned his opponents not to write them off as yet.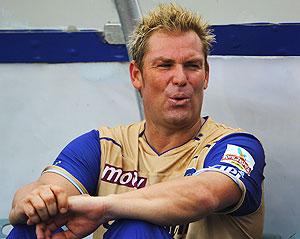 "Our guys played some pretty dumb shots. They played kid's cricket. That was pretty disappointing," he said at the post-match press conference.
"Our preparation has been fantastic. We all had a great practice. The feeling in the group has been fantastic from day one. I just don't know how we failed to put up a performance. That was pretty weak, that was soft, that was embarrasing," Warne said.
Warne, who is also the coach of the side, said Rajasthan have produced some of fine talents in IPL.
"Look at young (Ravindra) Jadeja, look at (Aaron) Finch, (Yusuf) Pathan, (Paul) Valthaty, (Munaf) Patel...These are a lot of guys that played for Rajasthan Royals and have gone on and playing fantastic cricket.
"We have two or three players who have been playing for us for three years. It's time for them to stand up and keep pushing. In cricket, it's a performance based game. Unfortunately, if they don't perform we will be looking at somebody else," he said.
Warne said the Eden wicket was ordinary as Knight Riders also struggled while chasing.
"It was a pretty ordinary wicket. It did not produce good cricket. If it was easy to bat on, they would have got the target in six or seven overs. But it took them about 14 overs.
It was a half decent wicket. It was so slow.
"But we didn't get enough runs. That's probably where we went wrong," he said.
"We have got three games in five days with two away and one at home. It's not an ideal condition. IPL is a tough competition."
Warne further said they missed Rahul Dravid, who missed Sunday's match due to a muscle strain.
"We missed him. He is a class player. I wish he was not injured -- he has a torn quad. I hope he will be back for our match against (Royal Challengers) Bangalore. I hope he will be back soon," the Rajasthan skipper said.