A bunch of die-hard fans of the South African cricketer Hashim Amla have chosen a different path to show their admiration for the Proteas player by donning the "Amla look" -- complete with long black beard and shaven head.
The craze was started by Brendin Chelin of Durban, Amla's hometown, who said he found the beard at a novelty shop and got some friends to trim it to look exactly like that of Amla, who sports it for religious reasons as a devout Muslim.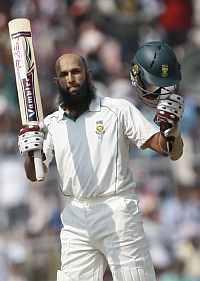 Chelin said a group of about 20 dedicated Amla fans went to all his matches to support the 27-year-old batsman.
But despite the beard, Chelin and his friend Ricky Varty still did not quite pass as Amla, so they shaved off their moustaches to try again, only to be reminded that Amla has a clean-shaven head as well.
Not keen to lose their hair altogether, the fans opted for covering their heads with pantihose to appear bald. Now they draw attention wherever they go.
Varty, an infomatics student, said wearing the fake beard was the best way to show their support for Amla.