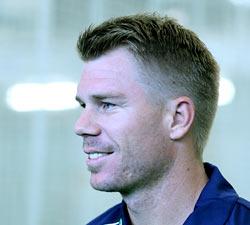 Australia batsman David Warner issued an apology for getting involved in a late night bar-room fracas with young England player Joe Root.
Warner told a news conference on Thursday that he was sorry his actions had let down his team mates, the fans and Cricket Australia, and apologised to Root.
Earlier, the batsman was suspended until the first Ashes test on July 10 and fined 11,500 Australian dollars ($10,900) for his part in the incident which occurred in the early hours of Sunday in Birmingham after Australia's Champions Trophy defeat by England.
British media reported that the "unprovoked physical attack", in the words of the England and Wales Cricket Board, was triggered by Root wearing a fancy dress wig in Australia's green-and-gold colours as a beard.
Photograph: Mark Metcalfe/Getty Images