After the war of words for the past fortnight, India skipper Mahendra Singh Dhoni and Eden Gardens curator Prabir Mukherjee decided to bury the hatchet just before the third cricket Test between India and England commenced.
Having won the toss -- for the third time in a row -- Dhoni seemed happy with the flat track on offer as he acknowledged Mukherjee by calling him "the boss of Eden Gardens".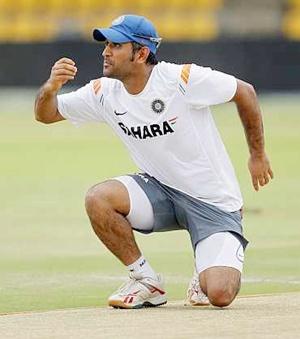 Just after the toss, Dhoni walked upto the 83-year-old and exchanged a few notes before both were seen laughing aloud and engaging in a bear hug.
"Dhoni told me, 'Aapko kabhi maine bura bola hain dada (Have I ever disrespected you?). You are the boss here'," the veteran curator said about his brief interaction with India's captain.
Cricketer-turned-commentator Ravi Shastri was all praise for the wicket and said, "It's the best surface of the series so far."
A typical flat Eden wicket, with a lot of runs on it, was on offer for the Indians.
Meanwhile, the match -- seen as Sachin Tendulkar's last at the historical ground -- began with a near-empty stadium, with 80 per cent of the 67,000-capacity lying empty.
The crowd, however, began to fill up towards the second session -- with Tendulkar and Gautam Gambhir batting -- swelling up to 20,000-odd.
Present among the gathering were Nari Contractor and Ted Dexter -- the oldest surviving captains of both sides -- who were felicitated by CAB during the commemoration of 80 years of Tests at the Eden.
"Eden Gardens welcome Nari Contractor and Ted Dexter," read the giant screen.
Around 50 years ago, Contractor led India to a famous 187-run victory against a Dexter-led England at the same ground.