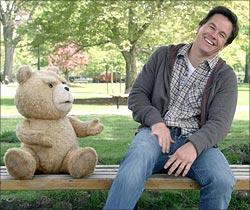 The story of a foul-mouthed, hard-partying teddy bear and his 35-year-old (human) best friend was thought to be an unusual combination for a comedy. So there was a good amount of buzz when
Ted
arrived in theatres early summer. But Hollywood was in for a big surprise.
The film, which was expected to do well, went on to become a sensational hit not only in North America but across the globe.
It has defied conventional wisdom that holds that American comedies do not do well abroad. The film is not only a smash summer hit but also one of the most profitable films of the decade.
The uproariously funny movie is directed by Seth MacFarlane, the maker of television's highly popular hits,
Family Guy
and
American Dad.
It cost just about $50 million (while many Hollywood comedies cost around $90 million) and has raked in nearly $500 million worldwide. And it is still in the second or third week in many countries, including France and Italy.
It has overtaken
The Hangover
to become the highest-grossing original R-rated comedy film of all time in America.
One of the many reasons Ted is hugely popular is that it is a comedy with a heart.
Despite all its gross jokes, this is a heart-touching tale of man who has been emotionally stunted and whose growing up story cannot be overlooked. Watching actor Mark Wahlberg essay a comedy role he has never done before, is another big surprise.
In this live-action/CG-animated comedy, which is Seth MacFarlane's first feature film, we follow the story of John Bennett (Wahlberg), a grown man whose simple childhood wish brought his cherished teddy bear (voiced by MacFarlane) to life.
Almost 30 years later, the fairy tale is very much over. But Ted is reluctant to leave John's side... to the increasing annoyance of John's girlfriend, Lori Collins (Mila Kunis).
Though Lori is upset by John's dead-end career and days spent smoking weed and drinking beer with Ted, John has his own problems.
He struggles to figure out a way to navigate adulthood, and the film offers a surprising twist as the boyhood toy comes to help him make the leap.
'Seth said he wanted it to be a very R-rated comedy,' scriptwriter Alec Sulkin reveals in the production notes. 'The bear comes to life with a little child's wish, and then you cut to almost 30 years later and it's the roommate who won't leave.
'They have a sweet beginning; then Ted becomes this national sensation and ultimately turns into something like a former child star. He's somebody who was famous, is still alive, but not famous any more.
'People continue to recognise Ted when they see him walking around with John, like when the pair is on their way to smoke pot in the park and run into some girl fans who recognise him and want to be photographed with the cuddly guy.'
Scriptwriter Sulkin says MacFarlane brings heart and comedy and absurdity to this story that's ultimately about growing up and leaving an icon of your childhood behind.
While it was critical to the filmmakers to bring bawdy comedy to Ted, they knew the film would never work without a good deal of honest emotion, producer Scott Stuber adds. "Seth's point is that he tries to offend everyone and not single out any group."
MacFarlane says casting the role of the man who just can't grow up became a delight when Wahlberg accepted the film. 'Mark Wahlberg was the perfect fit because he can be hysterically funny, yet he's also able to deliver genuine emotion and realism. When he talks to the bear, you believe that bear is sitting there. The way he could sit there and show such genuine emotion over the prostrate body of an inanimate stuffed animal was pretty impressive, and that is going to be a very big reason why the audience is invested in this... His ability to do physical comedy is incredible.
'That loveable, gullible character he plays in Boogie Nights and I Heart Huckabees was something we saw as a jumping-off point for John: the sweet and funny guy who is susceptible to Ted's urgings.'