Half-centuries from Shikhar Dhawan and Dinesh Karthik, coupled with excellent performances by the bowlers, helped India 'A' outclass Australia 'A' by 50 runs and win the 'A' teams tri-series, in Pretoria, on Wednesday.

Left-arm spinner Shahbaz Nadeem registered splendid figures of three for 34 as Australia 'A' were bowled out for 193 in reply to India 'A''s 243.

India 'A' pacer Mohammad Shami took two early wickets to put the Australians on the backfoot. He claimed the wickets of Aaron Finch and Shaun Marsh to reduce Australia 'to 37 for two after 10 overs.

Finch was bowled for 20 in the fifth over, and Marsh was caught at mid-on for 11 as Shami took two for 18 in five overs.

Interestingly, part-time off-spinner Suresh Raina opened the bowling with Shami and claimed the vital wicket of the in-form Glenn Maxwell, who was caught at mid-wicket.
Maxwell, who had slammed 145 from 79 balls and 93 from 56 balls in the two round-robin matches against India earlier in the series, hit Ishwar Pandey for a boundary and a six in the 11th over before Raina dismissed him.
Nic Maddinson (7) and Mitchell Marsh (2) fell in successive overs as Australia slipped after a good start, losing three wickets in as many overs.

Maddinson was caught by Raina off Pandey, while Marsh was run out, leaving the team in trouble at 53 for five in the 14th over.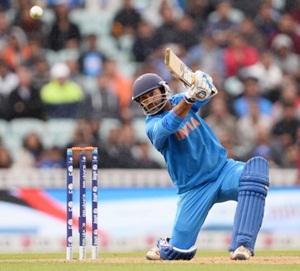 Moises Henriques tried to counter-attack, hitting part-timer Dhawan for two sixes in the 19th over. However, he was dismissed in the next over, caught at second slip off left-arm spinner Shahbaz Nadeem for 20.

Nadeem then bagged his second wicket when he had Nathan Couter-Nile stumped for five before he accounted for Josh Hazlewood to bring the Indians closer to victory.
Hazlewood hit 30 from 44 balls, adding 54 runs in 88 balls for the eighth wicket with Tim Paine, but Australia were unable to keep pace with the asking rate.

Paine hit 47 from 76 balls before he was bowled by Parvez Rasool and last-man Fawad Ahmed was run out for nine.

Earlier, pacers Josh Hazlewood and Nathan Coulter-Nile claimed three wickets each as Australia 'A' dismissed India 'A' for 243.
Dhawan, who hit 248 in the previous match against South Africa 'A', was again solid, smashing 62 from 65 balls, but the middle order failed to make notable contributions as team kept losing wickets at the other end.
Opener Rohit Sharma was dismissed in the third over, leg before wicket to Hazlewood for six, and two overs later captain Cheteshwar Pujara also fell cheaply when he was caught by Aaron Finch off Glenn Maxwell for one.
Dhawan and Dinesh Karthik repaired the early damage, putting on 108 runs from 110 balls for the third wicket, before the left-hander was caught behind off Moises Henriques, in the 24th over.
Karthik hit a fluent knock of 73 from 75 balls, laced with 10 boundaries, before he was bowled by Coulter-Nile.
Ambati Rayudu (34) and Wriddhiman Saha (31), playing his first match of the tournament, put on 63 runs for the sixth wicket stand but they could never dominate the bowling. And after Hazlewood breached Rayudu's defence, the others failed to show any stomach for a fight.
Hazlewood (3/31 from 10 overs) and Coulter-Nile (3/35 from 9.2 overs) were the pick of the bowlers with three wickets each, while all-rounder Henriques (2/47 from 10 overs) kept things tight in the middle overs.
Scorecard
India A
R Sharma lbw b Hazlewood 6
S Dhawan c Paine b Henriques 62
C Pujara c Finch b Maxwell 1
D Karthik b Coulter-Nile 73
S Raina lbw b M Marsh 17
A Rayudu b Hazlewood 34
W Saha c Maxwell b Henriques 31
P Rasool c Hazlewood b Coulter-Nile 5
I Pandey b Coulter-Nile 1
Mohd Shami b Hazlewood 3
S Nadeem not out 0 3
Extras: (lb 3, w 6, nb 1) 10
Total: (in 49.2 overs) 243
Fall of wickets: 1-20, 2-34, 3-142, 4-158, 5-166, 6-229, 7-236, 8-238, 9-243, 10-243
Bowling: J Hazlewood 10-1-31-3-3.10(3w), G Sandhu 6-0-50-0(1w), G Maxwell 5-1-24-1, N Coulter-Nile 9.2-1-35-3(1w), Fawad Ahmed 6-0-42-0(1nb), M Henriques 10-0-47-2, M Marsh 3-0-11-1(1w).
Australia 'A'
Aaron Finch b Mohammed Shami 20
Shaun Marsh c Pujara b Mohammed Shami 11
Nic Maddinson c Raina b Pandey 7
Glenn Maxwell c Pujara b Raina 12
Mitchell Marsh run out 2
Moises Henriques c Raina b Nadeem 20
Tim Paine b Parvez Rasool 47
Nathan Coulter-Nile st Saha b Nadeem 5
Josh Hazlewood st Saha b Nadeem 30
Gurinder Sandhu not out 21
Fawad Ahmed run out 9
Extras: (LB 6, W 3) 9
Total: (all out in 46.3 overs): 193
Fall of wickets: 1-30, 2-33, 3-50, 4-52, 5-53, 6-76, 7-88, 8-142, 9-176, 10-193.
Bowling: Mohammed Shami 7.3-1-30-2, Suresh Raina 10-1-33-1, Ishwar Pandey 8-1-47-1, Shahbaz Nadeem 10-1-34-3, Shikhar Dhawan 1-0-13-0, Parvez Rasool 10-1-30- 1.
Image: Dinesh Karthik
Photograph: Getty Images