Glenn Maxwell took the India 'A' bowlers to the cleaners yet again, smashing a quickfire fifty, to help Australia 'A' win by 25 runs and storm into the final of the 'A' teams tri-series in Pretoria, on Sunday.
India 'A' play South Africa 'A' in the final round robin-match on Monday, with the winners progressing to the final against Australia 'A'.
Opting to bat, Australia scored 310 for seven, riding on Shaun Marsh's 96 and marauding Glenn Maxwell's 56-ball 93.
In reply, India were bowled out for 285 in 48.3 overs.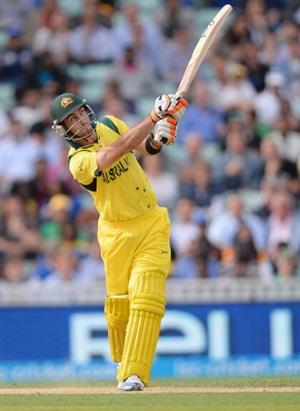 Rohit Sharma provided India a flying start, hammering 61 from 57 balls, hitting seven fours and two sixes and putting on 79 runs for the opening wicket with Murali Vijay, who hit 60 from 70 balls.
Captain Cheteshwar Pujara was finally among the runs with a composed innings of 51 form 64 balls, but the middle order failed to capitalise as India kept losing wickets at regular intervals in the middle overs.
Seamers Josh Hazlewood (3/59) and Moises Henriques (3/24) were the most successful bowlers for Australia.
The Indian batsmen started the chase in impressive fashion, with Sharma attacking the Aussie new-ball bowers, Hazlewood and Gurinder Sandhu.
Sharma launched into Hazlewood, hitting him over deep mid-wicket for a six and also got the maximum off Nathan Coultier-Nile. Such was Sharma's dominance that out of 79 runs added for the opening stand, the Mumbai batsman scored 61.
Sharma's 50 came off 48 balls; it was his third consecutive half-century in the tournament.
Once Sharma was run-out, Vijay, playing his first match of the tournament, upped the ante in presence of skipper Pujara, who chipped in with a half-century.
The pair added 78 runs for the second wicket before Vijay holed out in the deep off Mitchell Marsh and thereafter India lost the plot.
The in-form Suresh Raina failed with the bat, scoring just six, and Dinesh Karthik was also dismissed for the same score.
Ambati Rayudu kept India's hopes alive with a strokeful innings of 32 from 24 balls but failed to get enough support, while Parveez Rasool hit 27 from 23 balls towards the end.
Earlier, Maxwell and Marsh added 139 runs for the third wicket in only 16.1 overs.
Both batsmen were dismissed in quick succession by burly Karnataka all-rounder Stuart Binny (4/55) who reaped benefits for his disciplined bowling.
Australia slipped from 233 for two to 250 for six before Coultier-Nile used long handle to good effect by smashing 37 from 20 balls. He put on an unbroken stand of 60 runs for the eighth wicket with Mitchell Marsh, who made 34 not out.
Scorecard
Australia 'A'
S Marsh b Binny 96
A Finch b Nadeem 27
N Maddinson c & b Rasool 12
G Maxwell b Binny 93
M Marsh c Rayudu b Shami 34
M Henriques b Binny 0
T Paine c Pujara b Binny 3
N Coulter-Nile not out 37

Extras: (lb 3, w 3, nb 2) 8
Total: (for 7 wickets) 310
Did not bat: JR Hazlewood, GS Sandhu, Fawad Ahmed.
Fall of wickets: 1-53, 2-94, 3-233, 4-238, 5-238, 6-250, 7-310.

Bowling: M Shami 9-0-49-1, S Kaul 9-0-64-0, S Binny 10-0-55-4, S Nadeem 10-0-52-1, P Rasool 9-0-55-1, S Raina 2-0-13-0, R Sharma 1-0-19-0.
India 'A'
R Sharma run out (Coulter-Nile) 61
M Vijay c Hazlewood b MR Marsh 60
C Pujara c sub b Hazlewood 51
S Raina b Maxwell 6
D Karthik lbw b Hazlewood 6
A Rayudu c sub b Hazlewood 32
S Binny st Paine b Fawad Ahmed 2
Parvez Rasool not out 27
Mohammed Shami b Henriques 14
S Kaul c Paine b Henriques 11
S Nadeem c Fawad Ahmed b Henriques 3
Extras: (lb 8, w 4) 12
Total: (all out) 285
Fall of wickets: 1-79, 2-157, 3-175, 4-191, 5-200, 6-217, 7-235, 8-251, 9-275, 10-285.
Bowling: J Hazlewood 9-0-59-3, G Sandhu 5-0-30-0, N Coulter-Nile 5-0-23-0, G Maxwell 6-0-30-1, A Finch 1-0-7-0, Fawad Ahmed 10-0-73-1, MC Henriques 6.3-0-24-3, M Marsh 6-0-31-1.
Image: Glenn Maxwell
Photograph: Getty Images