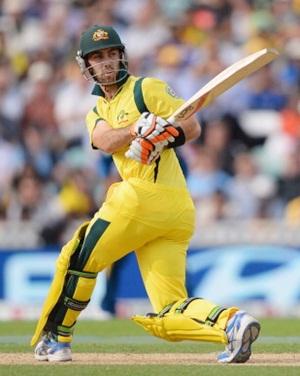 Glenn Maxwell hit a blazing century as Australia 'A' scored a thrilling seven-run victory over India 'A' in the second match of the 'A' Team tri-series, in Pretoria, on Thursday.
The 24-year-old Victoria batsman hammered the India 'A' bowlers to all parts of the LC de Villers Oval to score 145 not out from 99 balls and lift Australia 'A' to 298 for eight in their 50 overs.
In reply, the India 'A' batsmen, led by Suresh Raina's quick 83 from 79 balls, provided a stiff challenge, but lost a flurry of wickets in the final few overs to finish on 291 for eight.
Rohit Sharma played a steady innings of 66 to give India a good start, while Ambati Rayudu cut loose after a cautious start to score 70 from 56 balls.
India looked in the hunt with 21 needed from three overs for victory, but lost the plot in the end.
Dinesh Karthik was trapped leg before wicket by Josh Hazlewood for 10 before Nathan Coulter-Nile's double strike in the next over all but ended their challenge.
Rayudu was caught by Marsh for 70 and a few balls later Stuart Binny was caught by Alex Doolan for a duck.
Siddharth Kaul was dismissed in the final over for three as India lost four wickets in the space of 13 balls to end up on the losing side.
Earlier, Maxwell hit 18 boundaries and six sixes, and put on an unbroken stand of 146 runs from 82 balls with Josh Hazlewood, who played a quiet innings of 21 from 32 balls.
Left-arm spinner Shahbaz Nadeem (2 for 42) in the company of part-timers Suresh Raina (1 for 12) and Shikhar Dhawan (2 for 39) triggered a middle order collapse as Australia slipped from 120 for two to 152 for eight before Maxwell came to the rescue.
Nic Maddison hit 52 from 56 balls before he was bowled by Dhawan, who also accounted for Tim Paine's wicket, stumped for one.
Opener Shaun Marsh was the first to depart, bowled by Jaydev Unadkat for six. His partner Aaron Finch was then caught and bowled by Mohammed Shami for 22.
Australia were 175 for eight after 40 overs but Maxwell led a counter-attack as they scored 123 runs in the last 10 overs.
He hit Unadkat for four boundaries in the 45th over before a six and two fours in the 49th.
Pacer Siddharth Kaul also suffered in the death overs, with Maxwell hitting him for three sixes in a row in the final over of the innings, which fetched 23 runs.
India, led by Cheteshwar Pujara, boast of a strong batting line-up, featuring the likes of Rohit Sharma, Dhawan, Ambati Rayudu and Dinesh Karthik.
Scorecard:
Australia A
S Marsh b Unadkat 6
A Finch c & b Mohammed Shami 22
A Doolan c Pujara b Raina 30
N Maddinson b Dhawan 52
M Henriques b Nadeem 6
T Paine st Karthik b Dhawan 1
G Maxwell not out 145 99
N Coulter-Nile c Raina b Nadeem 0
P Cummins c Raina b Mohammed Shami 3
J Hazlewood not out 21
Extras: (lb 7, w 4, nb 1) 12
Total: (for eight wickets) 298
Did not bat: Fawad Ahmed
Fall of wickets: 1-28, 2-36, 3-120, 4-120, 5-122, 6-134, 7-134, 8-152
Bowling: Mohd Shami 8-0-51-2, J Unadkat 10-1-66-1, S Kaul 8-0-62-0, S Binny 4-0-19-0, S Nadeem 8-2 42-2, S Raina 5-0-12-1, S Dhawan 7-0-39-2.
India A

R Sharma run out 66

S Dhawan c Paine b Coulter-Nile 15

C Pujara c Henriques b Fawad Ahmed 29

S Raina c Cummins b Maxwell 83

A Rayudu c Marsh b Coulter-Nile 70

D Karthik lbw b Hazlewood 10

S Binny c Doolan b Coulter-Nile 0

Mohammed Shami not out 1

S Kaul c Paine b Hazlewood 3

J Unadkat not out 4

Extras (lb 4, w 6) 10

Total (for eight wickets) 291

Did not bat: S Nadeem

Fall of wickets: 1-47, 2-93, 3-151, 4-236, 5-283, 6-283, 7-283, 8-287.

Bowling: P Cummins 9-0-53-0, J Hazlewood 9-0-60-2, N Coulter-Nile 10-1-37-3 , G Maxwell 5-0-29-1, M Henriques 8-0-53-0, Fawad Ahmed 9-0-55-1.
Image: Glen Maxwell
Photograph: Getty Images