It was a partnership of epic proportions.
Well, literally.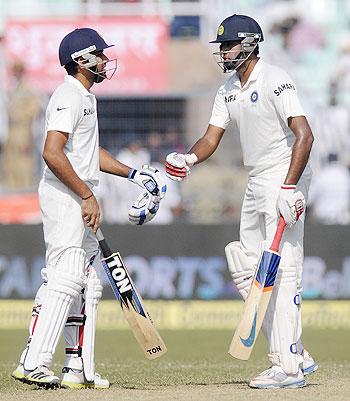 - PHOTOS from Day 3 of the India vs West Indies 1st Test in Kolkata
Rohit Sharma (177) and R Ashwin (124) added 280 runs for the seventh wicket to help India take a vital 219-run lead over West Indies on Day Three of the opening Test at the Eden Gardens.
The duo broke a plethora of records en route.
For starters, it was the highest ever partnership for the wicket at the venue, besting the 259-run stand between VVS Laxman (143 not out) and MS Dhoni (132 not out) against South Africa in February 2010, one that helped India level the series – after a humiliating defeat at Nagpur.
It was also the third highest partnership for any wicket at the Eden.
The Rohit-Ashwin effort is only behind the 376 runs added for the fifth wicket by Laxman (281) and Rahul Dravid (180) in that unforgettable Test match in 2001, and the 344 runs added by Sunil Gavaskar (182 not out) and Dilip Vengsarkar (157 not out) for the second wicket against West Indies in 1978.
Besides, it is the third highest seventh wicket partnership of all time.
Only the 347 runs added by then West Indies captain Denis Atkinson (219) and wicketkeeper Clairmonte Depeiaza (122) against Australia in Bridgetown in 1955, and the 308 runs added by Waqar Hasan and Imtiaz Ahmed against New Zealand in Lahore, also in the same year, have been better efforts.
And mind you, back then there were six-day Tests.
Considering the context when they came out to bat -- with India in a spot of bother -- and the fact that one was a debutant and the other a frontline bowler, it was a monumental effort no doubt. Moreover it has put India on track for a resounding win in what is Sachin Tendulkar's 199th Test.
Rohit, Ashwin take a bow!
Image: Rohit Sharma and R Ashwin en route their record-breaking partnership on Friday
Photograph: BCCI