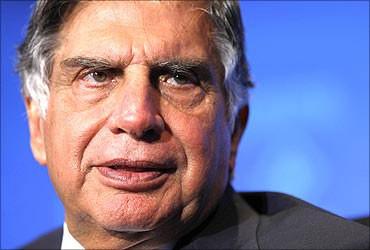 West Bengal Pradesh Congress Committee President Adhir Ranjan Chowdhury on Saturday criticised the statements of West Bengal ministers against Ratan Tata, and said Tata's views and opinions about the development of the state would always be welcomed by the people of Bengal.
"I have written a letter to Ratan Tata stating that the kind of words used against him by the state government ministers is really unfortunate.
The people of Bengal don't share the same views like the ministers of the state. The people of Bengal will always welcome his views, opinions and suggestions about the development of industry. The state Congress will always stand by him in his endeavour to help the state," Chowdhury told PTI.
State Finance Minister Amit Mitra on Wednesday stated that Tata may be suffering from delusion and that was why he made such comments.
"Tata is getting old and suffering from delusion. I do not know why he cannot understand about what is happening," Mitra had stated.
In an interaction organised by the Ladies Study Group of Indian Chamber of Commerce here on Tuesday, Tata had remarked, "While driving from Rajarhat, it is unbelievable to see new buildings coming up. But it still looks like a countryside, undeveloped. I do not see much signs of industrial development."