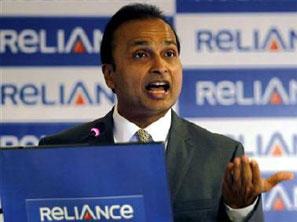 Reliance Communications Ltd, India's fourth-biggest mobile carrier, said it would focus on further withdrawing customer discounts and improving its profitability as its quarterly profit fell by almost half.
Carriers in the highly-competitive Indian market have seen some pricing power return in the past year after a court order forced some of their smaller rivals out of the market. They have withdrawn promotional offers, effectively raising prices of voice calls, which account for about 85 per cent of revenue.
Mumbai-based Reliance Communications increased voice call prices by about a fifth late last month and also increased the base tariff for voice calls.
"We'll continue our thrust to focus on paid and profitable minutes, continue to reduce promotional and free minutes," Gurdeep Singh, chief executive of the company's consumer business, said in a phone interview on Friday.
Reliance Communications, controlled by billionaire Anil Ambani, said consolidated net profit fell 48.5 per cent to Rs 156 crore ($26 million) for its fourth quarter ended March 31, from Rs 303 crore (Rs 3.03 billion) reported a year earlier.
Analysts on average had expected a net profit of Rs 215 crore (Rs 2.15 billion), according to Thomson Reuters data. The results of the latest and the year-ago quarters included one-off items.
With net debt of $6.7 billion, or more than five times its operating profit, Reliance Communications is the most leveraged among publicly traded Indian telecom carriers. The debt load has hurt its profit in recent years.
Planned sales of assets, including stakes in its tower and submarine cable units, to cut its debt have not materialised.
Singh said the company was "extremely focused" on reducing its debt, without saying if it was involved in any talks to sell assets.
Consolidated net profit for the latest quarter was helped by a tax reversal of Rs 1,026 crore (Rs 10.26 billion). But finance costs jumped more than a fifth from a year earlier to 9.07 billion rupees and depreciation and amortisation costs rose 62 per cent to Rs 1,767 crore (Rs17.67 billion).
Net income from operations rose 5.3 per cent from a year earlier to Rs 5,405 crore (Rs 54.05 billion). Monthly average revenue per user, a key metric for telecoms carriers, rose 2.4 per cent from the previous quarter to Rs 128, while realisation per minute was little changed at Rs 0.432.
Reliance Communications had 12.9 million 3G customers at the end of fourth quarter, it said.
Shares in the firm, valued at more than $4 billion, closed 0.3 per cent lower ahead of the results in a Mumbai market that edged down about 0.1 per cent.
The stock is down 6 per cent this year, after surging more than 75 per cent last year on its network-sharing pact with the 4G telecoms unit of Reliance Industries.