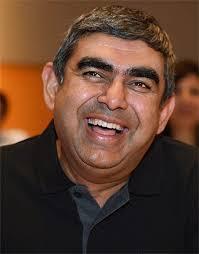 While investors and observers closely watch for changes that the new leadership might bring about at Infosys, the Bengaluru-based company is likely to announce its strategy by October.

Vishal Sikka, the new chief executive officer, is in the process of internally discussing and finalising the future course of action, chief operating officer U B Pravin Rao said on Tuesday.

"Over the next few weeks, we would be doing a lot of internal deliberation and we are looking at an October time frame, when we will be in a better position to articulate our strategy," he said to investors at a conference organised by domestic brokerage firm Motilal Oswal in Mumbai.

Adding: "Overall, when we look at what is happening in the market, we are seeing a lot of shifts in the industry, primarily driven by technology. Everything revolves around software.

"In some sense, our Infosys 3.0 strategy was all about taking advantage of the technology shifts that are happening in the marketplace.

"To that extent, we will look at continuing with our strategy but (it would be) much more sharper on certain new things that are happening in the market place and also given Sikka's background."

Widely considered an ace technocrat, Sikka joined Infosys on August 1 from German enterprise software maker SAP, where he was chief technology officer.

Last month, as CEO-designate, he'd said he did not plan to introduce any 'grand changes' to the strategy.

Sikka, with his background in the software products space, is widely expected to enhance Infosys' focus on the platforms and solutions side.

While products, platforms and solutions are seen as strategic areas for technology companies, several observers have raised concern that any major thrust on these could also lead Infosys to lose focus on its core bread-and-butter services business.

Thus, analysts have maintained it would be a 'tight rope walk' for Sikka to maintain the core business and use his expertise to prepare it for the future.

Separately, despite the several measures that Infosys has taken to contain the high employee attrition it is currently witnessing, Rao said it would still take a couple of quarters for it to return to the comfort level of 13-15 per cent.

"We have done several things. We have looked at some hygiene elements like predictability, compensation, compensation structure, promotions and so on. But in the recent past, there were a lot of distractions about CEO succession and high-profile exits, etc," he said.

"With the new leadership in place, we believe that distraction will go away.

"So, we expect over the next few quarters, some of the actions we have taken will lead attrition to trend down.

"We expect it to take a few more quarters before we get back to 13-15 per cent attrition, which is historically where we are comfortable."

On the current business environment, Rao said the company continued to see a stable market environment and no reason to revise its forecast of seven to nine per cent revenue growth expected in FY15.
Image: Newly appointed Infosys CEO & MD, Vishal Sikka; Photograph: Shailendra Bhojak/PTI