Bharti Airtel on Tuesday said Sanjay Kapoor, CEO (India and South Asia) has resigned from the company and Gopal Vittal will take over as the head of its Indian operations with effect from March 1, 2013.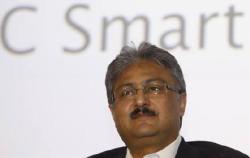 "After almost 15 years of illustrious innings at Bharti Group, Sanjay Kapoor, CEO (India and South Asia), Bharti Airtel, has decided to pursue his future aspirations outside of Bharti," the company said in a statement, announcing some top level changes.

Gopal Vittal, who rejoined Airtel in April 2012 as group director (special projects) will take over as CEO - India, Bharti Airtel, it added.

"Sanjay will continue in his current role until February 28, 2013, and will be available to assist on key matters until March 31, 2013 ensuring a smooth transition process," the statement said.

Kapoor will, however, continue to be on the Board of Indus Towers and Bharti Global, the statement said.

"Sanjay has had an enviable performance track
record, strategic disposition, business acumen and is an inspirational leader... I wish Sanjay all the very best in his future endeavours," Bharti Airtel chairman and managing director Sunil Bharti Mittal said in the statement.
In his new role as the CEO - India, Gopal - who will report to Mittal - will be responsible for defining and delivering the business strategy and providing overall leadership for Airtel's India operations.
"Gopal spent his last year understanding the new wave of mobile telephony, in particular the data space and data experience. This will be extremely relevant and valuable for the next phase of Airtel's growth. I wish him a successful and exciting journey ahead," Mittal said.
Besides this, South Asia operations, Bangladesh and Sri Lanka, would report to the CEO (International), currently Manoj Kohli, effective 1st March 2013.
However, various business leaders and functions from Airtel India would continue to support South Asia operations in this revised arrangement.
Image:
Sanjay Kapoor