Amid reports of Gulf carrier Qatar Airways holding talks to acquire stake in SpiceJet, the Indian low-cost carrier on Tuesday said some foreign players have evinced interest in the company but did not name its suitors.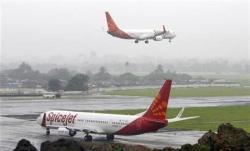 "Though few investors have evinced interest in the company post government allowing FDI in civil aviation sector to foreign airlines, it will be very pre-mature to comment on the possibilities of any fresh equity issuance to such interested parties or confirm, deny names of any specific entity," Kalanithi Maran-led Sun Group entity SpiceJet said in a BSE filing.

The company made the statement following reports that Qatar may buy equity stake in SpiceJet, which also fuelled a strong rally in its share price.

Recently, Qatar Airways CEO Akbar Al Baker had told reporters in
Doha that the airline was interested in buying stake in some Indian airline, but had not disclosed any names.
"India is a huge market; India is a potentially lucrative market. Qatar Airways will be interested once we are sure the regulations and the laws are properly liberalised," Al Baker had said.
The statement of Qatar chief has fuelled speculations about the potential targets in Indian aviation space.
Another Indian carrier Jet Airways has already confirmed being in talks with Etihad for a potential stake sale, while crisis-ridden and currently grounded carrier Kingfisher Airlines is also said to be looking for potential investors.
SpiceJet said it would like to reiterate that these are speculative media reporting.
Following stake sale speculation, shares of Spicejet jumped as much as 8.5 per cent this morning. The scrip closed at Rs 45.85, up 4.09 per cent.