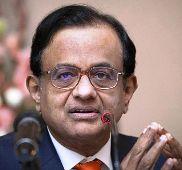 Government is taking steps to revive growth and will be able to meet the fiscal deficit target despite lukewarm response to telecom spectrum auction, Finance Minister P Chidambaram said on Friday.

"There is still time and I don't think we should spread pessimism or cynicism. Disinvestment process will start and the spectrum (auction) process will also continue," he said at a press conference in New Delhi.

Chidambaram's comments come in the backdrop of lukewarm response to the 2G spectrum auction which could fetch the government only Rs 9,407 crore (Rs 94.07 billion) as against the target of Rs 40,000 crore (Rs 400 billion).

The government intends to go in for another of spectrum auction before end of the current fiscal.

"We still have good time of four-and-a-half months and, therefore, it is too early to say that we won't reach
the target. It is my intention to reach the target," he said.
He said that the government would carry forward Rs 30,000-crore (Rs 300-billion) disinvestment programme and achieve the revised fiscal deficit target of 5.3 per cent of the gross domestic product in 2012-13.
On slowdown, he said, the economy is 'challenged' but the government is taking a number of steps to revive growth.
"Only this morning you have read that eurozone is formally in recession. We are nowhere near that situation. Indian economy is still growing at 5.5 per cent", Chidambaram said.
He exuded the confidence that economy will 'pick up in third and fourth quarters. Our goal is to tide over this difficult period and end the year on reasonably satisfactory note'.
The minister further said that he would endeavour to 'present a more balanced Budget for the next year.
'I hope that growth will revive and move on to the high growth track.'
Image: P Chidambaram