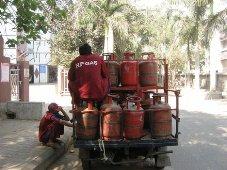 After a few weeks of hiatus, state-owned oil companies have resumed issuing new subsidised cooking gas connections, beginning with North Eastern states.

In September, issue of new LPG connections had been put on hold pending a massive nationwide exercise to eliminate users having multiple connections at the same address.

The three oil PSUs have now started releasing new LPG connections in Meghalaya, Sikkim, Nagaland and Andaman & Nicobar Islands, said Indian Oil Corp, the nation's largest fuel retailer.

Jammu & Kashmir, Himachal Pradesh, Manipur and Tripura will follow suit shortly. New connections would be released in other states once the exercise to eliminate duplicate connections is completed.

"Prospective customers, who have registered for new LPG connections till October 15 with gas distributors of oil marketing companies -- IOC, Bharat Petroleum and Hindustan Petroleum in Meghalaya, Sikkim, Nagaland and Andaman &
Nicobar Islands and who do no posses LPG connection, can now avail of a subsidised new LPG connection," IOC said in a statement.
The same for customers in J&K, HP, Manipur and Tripura will be announced soon, it said.
IOC said though oil firms had stopped releasing new connections pending completion of de-duplication process, they had continued to accept registration of new allotments.
"For convenience of customers, oil marketing companies have also extended the deadline for completion of Know-Your Customer (KYC) forms till November 30," it said.
"Only multiple connection holders should submit the KYC details before the new deadline."