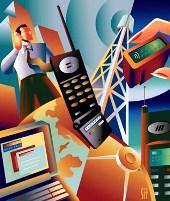 A day after the dull 2G spectrum auction, Finance Minister P Chidambaram described telecom as a 'stressed' sector and said the government would work out a strategy to assist industries reeling under the impact of 'temporary economic slowdown'.

The other stressed sectors, according to Chidambaram, are infrastructure, steel, construction, textile and food processing.

"If the economy improves and growth improves, the (stressed) sectors will recover. But meanwhile, we will have to do some handholding and try to help these sectors recover," he told reporters after meeting public sector bank chiefs.

Asked if the banks would be encouraged to lend to telecom operators whatever amount they have bid for spectrum, Chidambaram said, "How can banks not lend to the telecom sector?

Of course, they will be encouraged to lend to the sector. Telecom is a market with a huge potential."

However, the minister refused to take any questions on the low bids for spectrum sale for 2G services. The auction had resulted in just Rs 9,400 crore (Rs 94 billion) proceeds.

The Budget estimated the sum at Rs 40,000 crore (Rs 400 billion).

He said the growing non-performing assets (NPAs), which rose 0.98 per cent as on September 30,  from September 30, 2011, were a reflection of economic growth slowdown and was not a matter of alarm. Chidambaram said the government would have to look at rising NPAs sector-wise and find ways and means to help.

According to the minister, the Reserve Bank of India (RBI)
guidelines permit restructuring of loans.
"Just because an account has become an NPA, it does not mean that it cannot be restructured. In fact it (RBI guidelines) allows for restructuring of an account.
"I think all the chairpersons are sensitive to this matter and am sure we will see through this difficult period (till) the economy recovers and the accounts become standard accounts," he said.
Chidambaram described the current slowdown in the economy as temporary.
"Please understand, slowdown in the economy is not permanent. It is a temporary slow down. It will pick up and once the turnaround comes, these sectors will pick up."
On the positive side, Chidambaram said housing and automobile sectors had been doing well on back of decline in equated monthly instalments.
According to latest figures released by the Society of Indian Automobile Manufacturers, passenger car sales rose 33.65 per cent to 246,725 units in October 2012 from 184,611 in the corresponding period of last year.
However, the latest figures also showed industrial production contracted 0.4 per cent in September, after showing a 2.3 per cent growth in the previous month. Chidambaram said consumer non-durable goods had not shown such robust growth as was registered by theautomobile and housing sectors.
Banks could not reduce interest rates further in the absence of rate cut by RBI, the finance minister opined.
He added banks should pass on the benefits to the consumers. For that, "Interest rates have to come down.
So we have to wait for the date when interest rates come down," he added.