Finance Minister Pranab Mukherjee shocked many on Thursday, when he said that if the Cabinet does not approve 51 per cent FDI in multi-brand retail, then next day (i.e. Friday) the Sensex will fall by a whopping 400 points.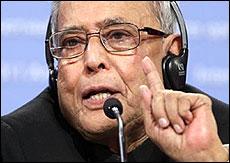 One minister, reportedly, retorted, "Is this Cabinet working for the share market?"

Why the Union Cabinet was so impatient to allow FDI in multi-brand retail flummoxed many.

When the Opposition is up in arms on various issues like price rise, black money, Lokpal and Telangana agitation, the United Progressive Alliance government, particularly Prime Minister Manmohan Singh and the finance minister were adamant to get the green signal for more FDI in retail.

According to sources, even Jairam Ramesh, minister of rural development asked his seniors 'why do it now'?

Also read: FDI in retails: The dangers ahead

Ramesh said
when the election of Punjab and Uttar Pradesh are closer such decision may impact Congress' chances.
Agriculture Minister Sharad Pawar pitched in and told Jairam that in Punjab 51 per cent FDI in retail will be welcomed by the farmers, adding a punch that 'in Uttar Pradesh in any case Congress is losing'.
As reported earlier in
rediff.com
, even, Defence Minister A K Antony
expressed his displeasure
in the presence of Cabinet colleagues. This means that not only there is no consensus on the controversial issue within the ruling United Progressive Alliance and outside the UPA, but even the Congress party is divided over it.