Sanjay Datta, chief, underwriting and claims, ICICI Lombard, says people should have a comprehensive insurance plan and a critical illness policy. Since the latter offers a fixed sum once the illness is diagnosed, the person can use the money for medication and hospitalisation.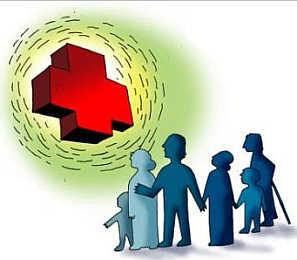 "The health cover takes care of the hospital bills. The pay-outs can be used to fund your travel, food, pre- and post-treatment expenses and so on, which a comprehensive plan won't," says Datta.

There is a good reason to have critical illness policies, specially for the earning members of the family. According to sector estimates, claims for cancer were up 25 to 30 per cent during the last year.
Cancer is now among the top-five diseases for which medical insurance reimbursements are issued.
Medical experts say 500,000 die of cancer yearly in India. And the World Health Organization (WHO) says the number may rise to 700,000 by 2015.

Other critical illness diseases like the ones related to the heart have been rising due to lifestyles. Permanent paralysis, coma, major burns, liver failure and lung disease are others.
The risk is always higher if there is a history of critical illnesses in the family. And surviving a critical illness can have a much bigger impact on your financial life.

Critical illness plans can be bought both as a benefit cover (that pays a fixed amount on being diagnosed with the disease) and an indemnity cover, says Divya Gandhi of Emkay Insurance Brokers. Earlier these were available only as benefit plans.
Also, these are available both as a rider and a stand-alone policy.

At the same time, some feel a better option would be to enhance the sum insured of an existing policy as a critical illness plan is expensive. Say increasing a Rs 500,000 cover to Rs 10 lakh (Rs 1 million).
The premium would rise from Rs 4,000 - 7,000 a year to Rs 10,000-15,000 for a 30-year-old, according to Policybazaar.com.
In comparison, a critical illness cover of Rs 300,000 will cost an average of Rs 4,500 and Rs 6,800 for a Rs 500,000 cover.

Also, a critical illness cover makes more sense for the breadwinner. Say, a child is diagnosed with critical illness.
Then, the cover's role (as a substitute for loss of pay) is of little use. The medical treatment can also be covered under the comprehensive health plan.

There are some issues with those policies. The exclusions are strict and the amount will only be paid if the parameter under it is met.
Also, if one takes a rider on a term plan, once a claim is made, the base policy is terminated. If the insured expires in 30-90 days of making a claim under the rider, the sum paid under the rider will be deducted from the death benefit.
But if you can afford it and don't have a significant financial corpus to meet expenses for illnesses, they are a good option.