Mere policy initiatives such as foreign direct investment in airlines and privatising airports will not help the aviation sector come out of the air pocket, according to a survey.
The aviation sector requires proper implementation of policies, coupled with reasonable taxes and improved basic infrastructure, says a survey by global consultancy EY and industry lobby Ficci.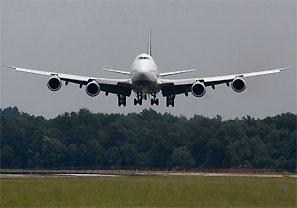 "While the government has been broadly successful towards making the aviation climate positive and favourable through a series of policy initiatives, seamless implementation of the policies is what will really matter in the medium-to-long run," it says.
"Taxations issues constitute the largest impediment to growth of the aviation industry. Coupled with this is the poor infrastructure which is responsible for congestion at airports, leading to increase in airline operating cost. The proposed Civil Aviation Authority is a crucial step for developing the aviation sector," says the survey.
In the past 18 months or so, the government has introduced several supportive regulatory and policy measures like 49 per cent FDI into domestic airlines, direct import of ATF by airlines, flexible use of airspace by civil and military users, abolishing the aircraft acquisition committee and emphasis on development of airports in tier-2 and 3 cities to boost regional connectivity, it says.
"Though, these developments have given a positive impetus to the sector, the growth of the industry is still constrained due to multiple factors, according to the survey.
The survey was conducted to capture the views of the industry on various policy announcements and how these developments are going to define the future of aviation landscape in the country.
While 59 per cent of the respondents recognise government's recent efforts as positive measures. But at the same time they feel that implementation of these policies is more important. Around 57 per cent of have opined that "high taxation" and arbitrary "policy regime" are the major deterrents to growth.