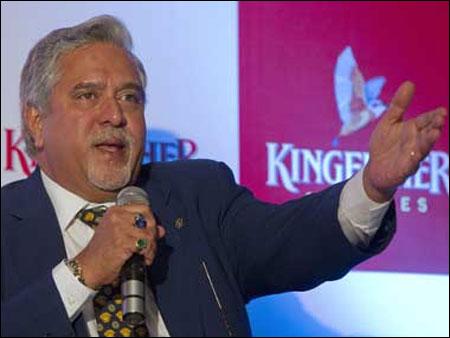 Vijay Mallya, chairman of UB Group, came out fighting at United Breweries Ltd (UBL)'s annual general meeting in Bangalore on Thursday. While he has already ceded management control of United Spirits Ltd (USL) to global spirits maker Diageo, speculations are strong that he may lose control over two more group companies — UBL and Mangalore Chemicals and Fertilizers Ltd (MCF).
Mallya, however, emphatically denied that there is any such threat. Despite having pledged as much as 31 per cent of the 37.5 per cent he holds in UBL, Mallya said he intends to protect his shareholding in India's largest brewer in which Dutch firm Heineken holds a 37.5 per cent stake.

He rubbished reports of Heineken looking for a larger share in the company, saying the Dutch brewer had not approached him on any stake increase. Mallya added while he had pledged some of his shareholding in UBL, they had not been towards creditors of Kingfisher Airlines Ltd, the group's grounded carrier.
Industry analysts, however, indicate there are corporate and personal guarantees forked out to lenders of Kingfisher by UB Holdings and Mallya himself, which lenders may move to access. "The UBL stock is on a good footing and Mallya's holding is worth close to Rs 6,500 crore. Lenders can technically access them," a senior lawyer tracking UB Group told Business Standard.
However, Mallya, who is fighting a pitched legal battle with lenders of Kingfisher, has said he has filed suits against the lenders asking that the corporate and personal guarantees might be treated as void and be limited to a minimal extent.
While Mallya is making all efforts to retain his pie in UBL, he is parallely working out strategies to remain firmly in control of MCF. While lenders to Kingfisher have sold a part of the pledged shares of MCF in the open market, two other major fertiliser players — Zuari Fertilisers and Chemicals and Deepak Fertilisers and Petrochemicals Corp — are vying with each other to gain control of this company.
Deepak Fertilisers, the largest shareholder in MCF, is facing rising competition from Zuari, which has been trying to increase its stake in MCF and now holds about 16.5 per cent stake in the company.

Deepak Fertilisers is a close shave away from acquiring a 25 per cent stake in MCF, that could mandate the company to make an open offer in the market. Mallya, along with his various companies, holds close to 20 per cent in this and according to senior UB Group officials, Mallya will remain in control as long as he holds above 15 per cent.
"I can't stop people from buying shares or making claims. As far as I'm concerned, we are firmly in control of Mangalore Chemicals and Fertilizers and intend to remain so," Mallya told reporters. Acknowledging the attempts of the two companies to grab more shares in MCF, Mallya said: "There are two parties that have been very active in the share market, but we intend to be firmly in control of the company."

While Mallya is busy strategising his moves on UBL and MCF, he added he would continue to invest in USL despite Diageo taking a strategic 25 per cent stake.