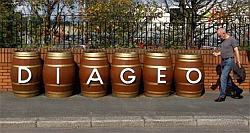 Diageo, the global spirits giant that has picked up a 25.02 per cent stake for Rs 5,200 crore in United Spirits Ltd, is gaping at an outstanding of a little over Rs 1,300 crore (Rs 13 billion) that the latter has forked out mainly to its principal holding company -- UB Holdings -- and which has been routed, presumably, to Kingfisher Airlines.

According to data reviewed by Business Standard, the dues from UB Holdings alone to USL shot up by 4.3 times to Rs 1,188 crore (Rs 11.88 billion) by the end of the last financial year, compared to an outstanding of Rs 272 crore (Rs 2.72 billion) by the end of FY12.

USL and two of its subsidiaries have advanced loans and provided a deposit to a group company, aggregating to Rs 1,318 crore (Rs 13.18 billion) that are outstanding as on March 31 this year.

USL has, however, added the group company had assets with significant market value and has a track record of disposing assets, if required to settle dues.

USL further added the group company had provided significant corporate guarantees to lenders and other vendors of its related party, of which certain guarantees had been invoked and were being challenged at appropriate forums.

"The management of USL is reasonably confident that no material liability, if any, would eventually devolve upon the group company and based on the assets it owns and future business prospects, USL would be able to recover the amounts, under the agreed terms and that no provision is considered necessary for these amounts as on March 31,"
USL explained. Diageo offered not to comment on the development.
Though USL has said it was confident that this sum would be recovered, industry analysts are sceptical of how this could be achieved, given the context of high debt that Kingfisher Airlines is under and how UB Holdings could address that aspect.
Kingfisher Airlines has stopped flying since October 2012.
It has an outstanding of Rs 6,200 crore (Rs 62 billion) and the lenders' consortium has recalled the loans and is going all out to recover as much as possible by selling assets pledged with them.
UB Holdings is itself leveraged and though Rs 2,000 crore (Rs 20 billion) of debt might have been paid off to lenders from the proceeds of sale to Diageo, it would be that much more difficult to address the rest of the outstandings.
Keep calm, says United Spirits
United Spirits Ltd and two of its subsidiaries have advanced loans and provided a deposit to a group company aggregating to Rs 1,318 crore (Rs 13.18 billion)
USL says the group company has assets with significant market value and has a track record of disposing of assets, if required to settle dues
It also says the group company has provided corporate guarantees to lenders and other vendors, of which some have been invoked and are being challenged at appropriate forum