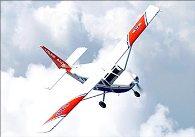 Mahindra & Mahindra, the tractors to information technology conglomerate, will launch its first indigenously built aircraft before March, at a price at least 20 per cent cheaper than an equivalent aircraft of Cessna, the market leader, said a senior executive of the company.
Mahindra Aerospace, arm of Mahindra Engineering Services, will take the aircraft on its maiden flight perhaps next month. The Mumbai-based company has been developing the small aircraft in partnership with the Bangalore-based National Aerospace Laboratories (NAL).


Hemant Luthra, president, Mahindra Systech, said, "We would fly our first indigenously-built aircraft in Q4 (present quarter). We have to make sure the aircraft is certified to get the FAR Part 23. It should be about 20 per cent cheaper than a Cessna."


FAR or Federal Aviation Regulations Part 23 contains air-worthiness standards for planes in the normal, utility aerobatic and commuter categories. It dictates the standards required for issuance and change of type certificates for airplanes in these categories.


The six-seater, turboprop-engined, Stationaire model from Cessna carries a price tag of $533,400 (Rs 2.4 crore), according to its website. It is the cheapest model from that company, with similar seating specifications.


Mahindra Aerospace is developing a five-seater version of their small plane specially for the Indian market and a larger version which could seat eight to 10 passenger. The plane will be powered by turboprop engines. The executive refused to divulge details of cost of development.


The aircraft, known as NM5-100, is designed to be converted for training or cargo operations purposes.


M&M will commercially produce the aircraft at its facility in Bangalore after NAL flight-tests it and it is later certified.


According to reports, M&M is also looking at a Civil Aviation Safety Authority certification in Australia, where the demand for such aircraft has been found to be encouraging.


M&M had acquired majority stake in Australian general aviation manufacturer Gippsland Aeronautics and Aerostaff Australia, a component and assemblies manufacturer.