With Iran facing a currency crisis in the aftermath of US sanctions, Indian exporters are having a tough time exporting to the Islamic republic.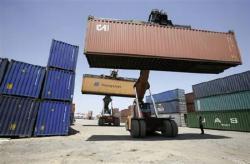 For example, between April and September, exports of engineering goods from India to Iran fell by almost 35 per cent to $205.3 million, against $316 million in the same period last year, according to data from EEPC India (formerly known as Engineering Export Promotion Council).

Iran is passing through an acute economic crisis, with its currency plunging to record low levels and prices of food articles escalating. Iran's currency, the rial, has fallen by about 40 per cent against the dollar since August.

As a result, Iranian banks have become extremely reluctant to issue letters of credit (LC) for importers, a crucial link to the newly-established payment mechanism between India and Iran.

According to Indian exporters, Iranian banks have been seeking up to 100 per cent margin money for issuing LCs to their importers, which have shrunk the order book of Indian exporters.

In December 2010, the Reserve Bank of India had scrapped payments to Iran through the Asian Clearing Union mechanism, after the US imposed sanctions on Iran over the country's nuclear programme.

However, India and Iran reached
a barter deal around February. Under the new mechanism, India pays 55 per cent of the value of oil it imports from Iran in euro payments through Turkey's Turkiye Halk Bankasi. The remaining 45 per cent of payments are made in rupees through UCO Bank.
These rupee resources, in turn, are being used for making payments for Indian exports.
To facilitate a smooth transaction, banks in Iran issue LCs on behalf of Iran's exporters.
Iranian banks have been especially reluctant to issue LCs for import of non-essential commodities, which have hit exports in sectors such as engineering goods from India.
"Since Iran is going through an exchange crisis, importers of priority sector goods like medicine and pharmaceutical products are getting LCs.
However, for other sectors, it is difficult to get LCs," said Suranjan Gupta, director, EEPC India.
EEPC had already taken up the matter with the government in a meeting on November 7.
"We are not getting sufficient buyers in Iran for exports, as due to the currency crisis, banks in Iran are very reluctant to issue LCs," said P K Shah, former president, Federation of Indian Export Organisation.
India buys around $11 billion worth of oil from Iran - its second-largest crude supplier after Saudi Arabia. However, the share of exports is much less at about $2.7 billion in goods.