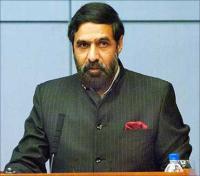 Commerce Minister Anand Sharma on Wednesday sought to assure prospective American investors that India is a 'welcoming investment' destination where the climate is 'totally conducive' to such actions.
Addressing a gathering of some 40-odd people that included mostly private equity investors at the PierreHotel in New York, Sharma talked about the strength of the Indian business and economy and how would it continue to grow.
Sharma will address the US-India Business Council on Thursday in WashingtonDC along with Finance Minister P Chidambaram and Deputy Chairman of Planning Commission Montek Singh Ahluwalia.
"The Minister went out of his way to assure investors that India is a welcoming investment climate. On opening the retail sector, he said, "In the next few weeks, before August, the final tweaks will be put in place that will attract organised retail investment to India and with it all the ancillary improvements," Ron Somers, USIBC president, told rediff.com.
"This will benefit farmers and the entire back-end infrastructure associated with the farm-to-market distribution chain," Somers said quoting him.
Sources said that while Sharma sounded optimistic about the Indian economy's upward growth trajectory in future. "He, however, did not say anything on the rupee devaluation in India that primarily has brought all the top Indian officials here in the US," they added
Along with Sharma, Deputy chairman of the Planning Commission Montek Singh Ahuwalia, reached New York apparently for "private meetings possibly" with American investors.

"It is not known if it was an official meeting but he did meet some investors in New York today before his interactions with USIBC and government officials in DC on Thursday, the sources said.