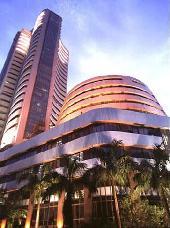 Markets ended nearly 1% lower on Friday weighed down by selling pressure in banking major SBI on concerns of rising non-performing assets and profit taking in index heavyweights.

The Sensex ended down 162 points or 0.9% at 18,684 and the 50-share Nifty ended down 52 points or 0.9% at 5,686.

European shares too fell on Friday, led lower by growth-linked stocks hit by mounting concerns about a U.S fiscal crisis that could threaten growth in the world's biggest economy.

Adding to poor sentiment were worries about Greece as it inched towards securing its next tranche of urgently needed international aid.

The country will vote to approve its 2013 budget on Sunday, after Wednesday's tight vote in favour of a 13.5 billion euro austerity package.

In Asia, Japan's Nikkei fell a four-week closing low on Friday, led by exporter shares, as a looming U.S. fiscal crisis threatened to tip
the world's largest economy into recession and as uncertainty over a Greek bailout rekindled worries about the euro zone.
The Nikkei ended 0.9% lower at 8,757.60, falling for the fifth straight session, and was down 3.2% this week, its worst weekly performance in four weeks.
Hong Kong shares eased further from their 2012 highs as weak overseas spurred more profit-taking, particularly in China-focused shares, dragging the benchmark to its worst weekly performance since mid-July.
The Hang Seng Index fell 0.9% to 21,384.4, its worst week in four months, while the Shanghai Composite edged down slightly by 0.1%
In the broader markets, the midcap index dropped nearly 1% while the smallcap  index capped its downfall around 0.7%.
Among the sectoral indices, PSU, Realty, Metal, Oil & Gas, Bankex, Power, Consumer Durables, Capital Goods and IT indices losing 1-2%.
Bajaj Auto, Maruti Suzuki and Cipla up 0.1-0.4% were the only gainers among the Sensex-30.