While the Bombay Stock Exchange's Sensex was down 0.83 per cent, the stocks of Vijay Mallya's companies surged on the news that UB Group has reached a deal with the world's largest spirit maker Diageo for a stake sale.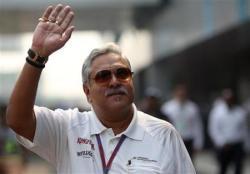 According to reports, Diageo will buy a stake in United Spirits, whose stock was up Rs 25.75 or 1.92 per cent at 1410 hours hours. It was trading at Rs 1,369.
Another group company United Breweries' stock rose Rs 10.95, or 1.39 per cent. The stock was trading at Rs 800.
The holding company's stock, United Breweries, was up by Rs 3.85 (2.92 per cent) and was trading at Rs 135.50.
According to various news reports, the companies will announce the deal today (on Friday).
In September United Spirits had informed the stock exchange in a filing that said, "United Spirits and Diageo Plc confirm that the UK-based
company is in discussion with it and United Breweries Holdings in respect of possible transactions to acquire an interest in the liquor firm."
Mallya-led United Breweries Holdings Ltd (UBHL), the promoter of United Spirits, holds 18.03 per cent stake as on September 30.
Earlier during the day, shares of United Spirits had surged 6 per cent to Rs 1,425, its 52-week high on the BSE.