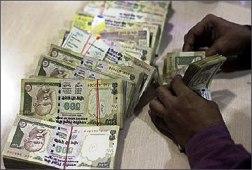 Snapping its two day gaining string, the rupee on Thursday fell by 10 paise to 54.94 against the dollar due to month-end demand for the US currency from oil importers, amid economic growth concerns and capital outflows.

Forex dealers said a weak trend in the stock markets triggered by fag-end selling also weighed on the rupee sentiment.

The rupee commenced higher at 54.75 at the Interbank Foreign Exchange market from its previous closing of 54.84.

It immediately touched a high of 54.72 on initial firm equities as well as sustained dollar selling by exporters.

Later, it fell back to a low of 54.99 before ending at 54.94, down 10 paise, or 0.18 per cent.

In last two sessions, it had risen by 22 paise, or 0.40
per cent.
Forex experts said economic growth concerns were triggered after Prime Minister Manmohan Singh called the growth target of 8 per cent in the 12th Five Year Plan 'ambitious'.
"The downward revisions of growth forecasts in the twelfth five year plan and comments from the Prime Minister over the sluggish growth of economy also weighed on the rupee pushing it weaker against the dollar," said Pramit Brahmbhatt, CEO, Alpari Financial Services (India).
Foreign institutional investors sold stocks over Rs 132 crore (Rs 1.32 billion) on the exchanges, as per provisional BSE data.
"Despite the weakness in the dollar index and a recovery in the Euro, the rupee was not seen gaining," India Forex Advisors founder and CEO Abhishek Goenka said.