The new year seems to have started on a good note for job seekers as the first two months of 2013 witnessed an uptick in hiring activities led by sectors like software services, BPO and pharma, according to leading job portal Naukri.com.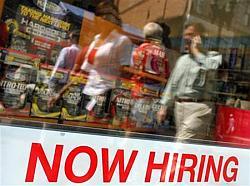 According to the Naukri Job Speak index - that indicates hiring activities online - employment levels for India Inc in February was 4 per cent higher than what it was in January.

The index moved up by 10 per cent in January 2013 compared to December 2012. The first month of the new year witnessed the maximum improvement in hiring activity in a year.

The January-February period saw upswing in hiring activity led by sectors like software services, BPO and pharma which have been witnessing positive hiring trends.

"There are some signs of hiring picking up but it is too early to call it a turnaround. Hopefully the worst is now behind us and things will start improving from here on," Info Edge India, which owns job portal Naukri.com,
Managing Director and CEO Hitesh Oberoi said.
An industry wise analysis shows that while some sectors saw positive movement in hiring activity, sectors like banking, oil and gas, telecom and insurance saw month on month dips in hiring levels. The highest month-on-month fall of 13 per cent was seen in the banking sector.
Positive hiring activity was seen for professionals across important functional areas. The highest demand was seen for professionals in HR, software services and accounts domains in February this year over January.
Sales and engineering design professionals saw 3 per cent and 2 per cent increase in demand while professionals in banking domain saw about 8 per cent dip in hiring levels during the same time period, the report said.
Barring Hyderabad which saw stable hiring levels, hiring activity for all cities grew on a month-on-month basis. Highest growth was seen in Pune and Kolkata while Delhi, Mumbai, Bangalore and Chennai saw hiring activity grow within the range of 3 per cent and 6 per cent in February when compared to January.