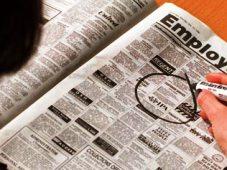 Indian employers are cautiously optimistic about their hiring plans for the next three months, and job seekers will have to be prepared for a more rigorous selection process, staffing services firm Manpower said on Tuesday.

According to the Manpower Employment Outlook Survey, about 27 per cent of Indian employers said they would expand the workforce in the April-June quarter, primarily driven by ITeS and IT sectors where employer hiring intentions appears to be improving.

The net employment outlook of 27 per cent for the second quarter this year indicates an improvement of 2 percentage point, compared to the January-March quarter, but reported a 19 percentage point decline compared to the year ago period when it stood at 45 per cent.

"In spite of the market downturn and the uncertainty around the economic and political environment in India, employer hiring intentions remain positive in all seven sectors," ManpowerGroup India Managing Director A G Rao said.

He cautioned, however, that job seekers have to be prepared for a more rigorous selection process.

"They can expect additional aptitude tests and extra rounds of interviews."

A sector-wise analysis shows that the strongest hiring prospects are in the transportation and utilities sector with a net employment outlook of 37
per cent, where the outlook improves by a considerable margin from the first three months of the year.
Robust hiring plans are also evident in the services sector and wholesale and retail trade sector, where outlooks stood at 32 per cent.
The survey that covered 5,370 employers across India noted that although the pace of hiring is weaker than historical levels, no sector employers indicated that they will trim the workforce in the next three months.
Hiring intentions are also positive in all four regions.
The most optimistic hiring plans were reported in the North, where as many as 36 per cent of employers said they would hire more, followed by the West (32 per cent), South (21 per cent) and East (15 per cent).
Meanwhile, employers in 32 of the 42 countries and territories over the world expect to add to their workforces in varying degrees during Q2, 2013 (April-June).
Worldwide, hiring expectations are strongest in Brazil, Taiwan, Turkey and India, and weakest in Italy, Spain, Greece and the Netherlands.
"Employers continue to be troubled by the current global economic environment, where the only certainty is uncertainty, meaning companies remain cautious when it comes to adding to their workforces," ManpowerGroup Chairman and CEO Jeffrey A Joerres said.