Majority of companies in the country plans to hire more people this year even though finding the right talent is becoming difficult, according to a survey.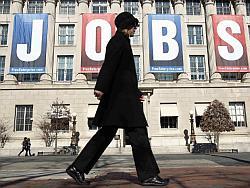 About 68 per cent of employers surveyed by leading job portal Naukri.com are planning to recruit new people, with companies from IT and banking sectors emerging as the most optimistic lot.

According to the portal, 68 per cent of recruiters said that new jobs would be created this year as compared to just 62 per cent respondents expressing similar sentiment in July last year. The same stood at 72 per cent in January 2012.

"While banking and IT sector recruiters have stated a positive hiring outlook for 2013, pharma and auto sectors have revealed low sentiments with only 59 per cent and 52 per cent opting for new jobs to be created," Naukri.com said in a statement.

The findings are based on a survey of more than 1,200 employers across diverse sectors. The survey is twice in a year.

Meanwhile, 69 per cent of recruiters said that talent crunch has intensified over the last few months.

"The concern was highest among Auto and Pharma sectors where 78 per cent and 73
per cent recruiters said that the talent crunch scenario has worsened over the years. 42 per cent of respondents said that the maximum talent crunch was witnessed in the 4-8 years experience bracket," it said.
When it comes to pay increases, around 40 per cent of the respondents said that hikes would be in the range of 10-15 per cent. About 36 per cent of those surveyed opined the raises would be in single digits.
"Lowest increments were predicted by banking sector employers where about 60 per cent of them said that salary hikes in their organisation will be less than 10 per cent in 2013," the statement noted.
Info Edge (India) chief financial officer Ambarish Raghuvanshi said that while businesses are understandably cautious, improvements in government decision making, macro environment and financial markets should lead to a better hiring climate over the next few months.
Naukri.com
is part of Info Edge.
"Owing to the uncertain economic environment, 63 per cent recruiters say that attrition levels in their organisation is less than 10 per cent as compared to 55 per cent stating the same in July 12," the statement said.
In terms of hiring sentiment, recruiters from Hyderabad and Bangalore were most optimistic.