Trade between China and ASEAN nations is expected to touch $ 300 billion this year, registering a 37.5 per cent increase on the back of a Free Trade Agreement (FTA) between the two sides, said the executive secretary general of China-ASEAN Business Council.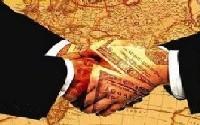 The FTA, which came into operation from the beginning of last year, has boosted economic exchanges between China and the ASEAN (Association of Southeast Asian Nations) member states, China-ASEAN Business Council Executive Secretary Xu Ningning said Sunday at a forum in Kunming, capital of China's Yunnan Province.

The estimated amount will be higher than the $ 292.8 billion trade registered by the two sides in 2010.

Customs data showed that in the first four months of this year, the trade value between China and ASEAN nations rose 26.5 per cent year-on-year to $ 110.2
billion, Xinhua reported.
Under the FTA accord, the average tariff on goods from ASEAN countries to China is cut down to 0.1 per cent from 9.8 per cent.
The six original ASEAN members, including Brunei, Indonesia, Malaysia, the Philippines, Singapore and Thailand, slash the average tariff on Chinese goods from 12.8 per cent to 0.6 per cent.
By 2015, the policy of zero-tariff rate for 90 per cent of Chinese goods is expected to extend to Cambodia, Laos, Myanmar and Vietnam.