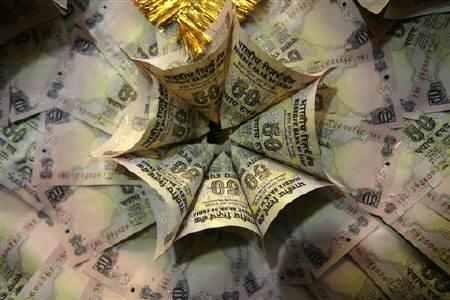 Encouraged by response of foreign investors to PSU stake sale, the government is proposing to raise the disinvestment target to Rs 40,000 crore in the next financial year by selling equity in 20 companies.
"As per the discussion within the disinvestment department, initial estimate is that, next year's target will be somewhere around Rs 40,000 crore," official sources said.
So far this fiscal, the government has raised Rs 21,500 crore as against the target of Rs 30,000 crore. DoD Secretary Ravi Mathur has already said that government will try to raise Rs 27,000 crore this fiscal ending March.
The Department of Disinvestment (DoD), the nodal department for stake sales in PSUs, has already identified 20 companies for offloading minority stake in the 2013-14 fiscal.
Sources said work is already in progress for lining up companies for minority stake sale in the next fiscal and DoD officials are already meeting the administrative ministries and company officials for executing it on time.
Amongst the companies which have been identified for disinvestment next fiscal include Coal India, Indian Oil, PGCIL, NHPC, National Electric Power Company (Nepco) and THDC.
Apart from this, Cabinet approval has already been accorded for disinvestment in Bhel, Neyveli Lignite, Hindustan Aeronautics. Also the second tranche of Hindustan Copper (HCL) is also likely in the April-June quarter.
Buoyed by the resounding success of Oil India and NTPC disinvestments earlier this month, the government expects that an early start to divestment process next financial could help in garnering higher funds.
In November 2012, DoD sold 5.58 per cent stake in HCL for about Rs 807 crore and 10 per cent in NMDC to raise around Rs 5,900 crore.
Besides, 10 per cent stake sale in OIL fetched Rs 3,141 crore and 9.5 per cent in NTPC garnered Rs 11,496 crore to the exchequer this month.
Stake sale of Nalco, MMTC, SAIL and Rashtriya Chemical and Fertiliser (RCF) is also scheduled for current fiscal.