Even as India [ Images ] ranked least amongst the developing economies when it came to the government support in manufacturing sector the country topped with most agreeing it to be a practical career option, a recent global manufacturing survey says.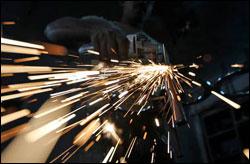 India ranked the least amongst developing economies at 60 per cent when it came to government support, like policies and reforms, for the manufacturing industry, a new report 'Engaging the Modern Manufacturing Workforce' commissioned by Kronos incorporated and conducted by IDC reveals.
However, when asked how does the future of manufacturing look as a career option for the next generation, 92 per cent Indians thought it as a practical career option, it points out.
Australia [ Images ] and China were ranked lowest with 74 per cent and 70 per cent, respectively, in considering manufacturing as a career option.
It also reveal that about 32 per cent Indian manufacturers claimed that manufacturing was detrimental to the economy of the country.
The study included new primary research with 550 workforce management stakeholders across 11 countries, including Australia, Brazil [ Images ], Canada [ Images ], China, France [ Images ], Germany [ Images ], India, Mexico, Spain, United Kingdom and the US.
The companies included in the research were from the manufacturing industry and included a diverse collection of both discrete and process manufacturers.
Labour productivity was rated as the main driver of success among all countries, including India, as factors that affect the success of manufacturers.