Can 2018 top its predecessor in Sporting Glory?
Dhruv Munjal looks at the year ahead.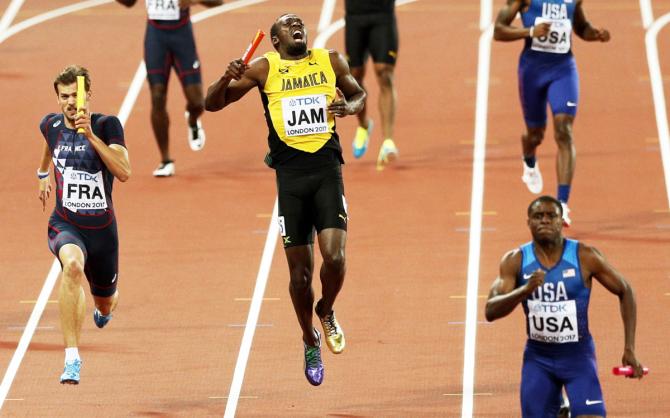 IMAGE: Usain Bolt, centre, pulls up with an injury during the final race of his career. Photograph: John Sibley/Reuters
Sport in 2017 was a playground of absurdities.
Freakishly good athletes pulled off feats the commonsensical mind dismissed as impossible, football clubs purchased relatively middling players for preposterous amounts that could once buy entire teams, Sergio Garcia finally won a major, Usain Bolt lost a 100m final and some brainless motorcycle guide forced competitors in the wrong direction at the Venice Marathon.
(How the Italian city ended up hosting a marathon is matter for a different debate; ideally Venice shouldn't have agreed to host anything more than a long-distance swimming competition.)
The year started with two superhuman 35 year olds winning the Australian Open -- one was returning to court after six months out following knee surgery, and the other somehow managed to upstage her elder sister in the final despite being eight weeks pregnant.
Roger Federer and Serena Williams are obviously not normal, which point is best reflected in the fact that when the world's best come calling at Melbourne Park in 2018, Roger -- Serena has dropped out of the year's first Grand Slam -- will start as favourite again.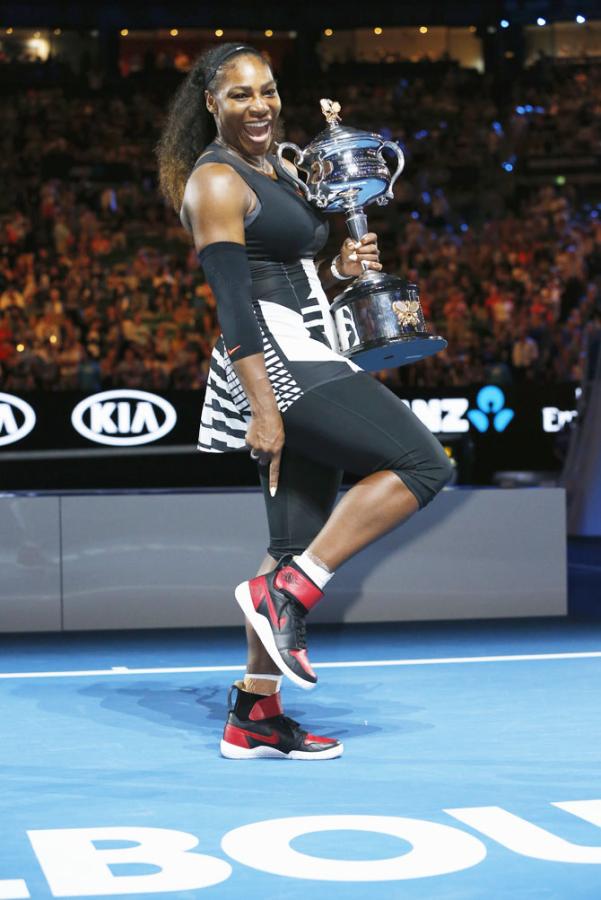 IMAGE: Serena Williams poses with the trophy and points to her specially designed shoes after defeating elder sister Venus to win the Australian Open title in 2017. Photograph: Issei Kato/Reuters
If her rivals can't beat her when she's pregnant, I seriously doubt if Serena will see a genuine challenge coming her way when she's in the best shape, which means more pummelling of opponents in the imperious manner that we've come to relish.
Simona Halep, Garbiñe Muguruza and Karolína Plíšková will all have the occasional swipe at her in the big tournaments, but will probably come undone in the way we've come to regularly dread.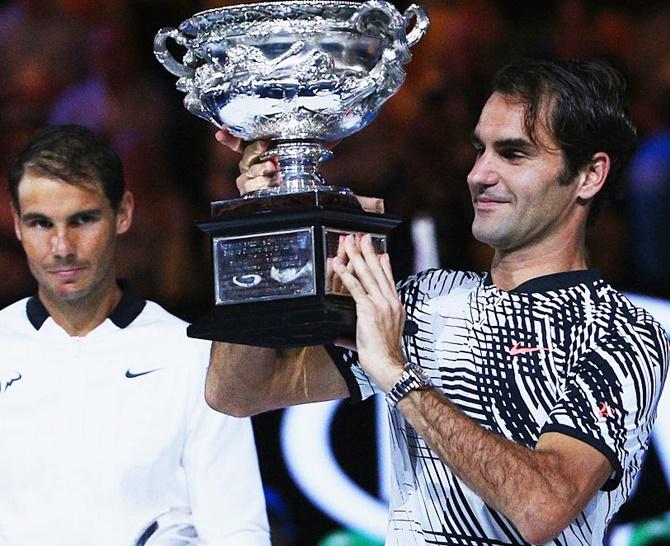 IMAGE: Rafael Nadal looks on as Roger Federer celebrates winning the Australian Open men's title. Photograph: Michael Dodge/Getty Images
As for Federer, if he and Rafael Nadal can reproduce anything similar to what held audiences spellbound in the 2017 Australian Open final, then we could be headed for another classic throwback season on the men's tour.
But I'd advise against holding your breath. Novak Djokovic and Stanislas Wawrinka are set to return, and Nadal's fragile frame is on the cusp of disintegration, again.
So anything that would mirror 2006 looks hugely unlikely. But then we said that about 2017, too. Who knows?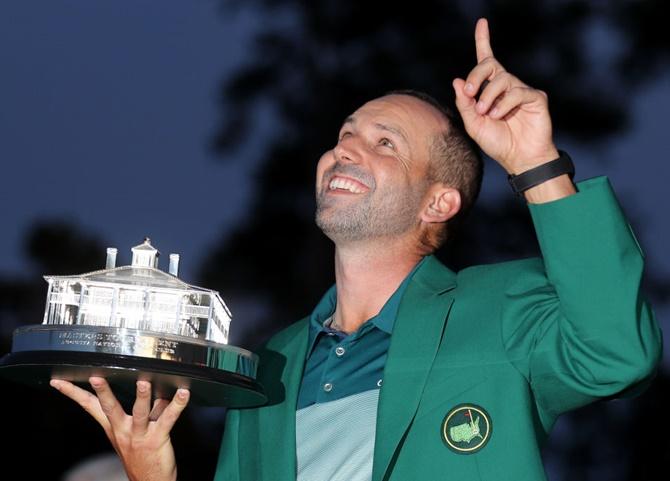 IMAGE: Sergio Garcia celebrates with the Masters Trophy during the Green Jacket ceremony. Photograph: David Cannon/Getty Images
Spanish success in the year gone by wasn't restricted to Nadal.
In April, Sergio Garcia won The Masters, ending a very, very, long wait for his first Major title.
To put the enormity of Garcia's achievement into context: He started playing around the same time as Tiger Woods, and the American has 14 majors to his name.
To make it sound even worse for the Spaniard, Tiger captured his last almost a decade ago.
So Garcia was really due, and his win at Augusta was one of the top feel-good moments of the year.
Wimbledon was witness to the celebration that followed the victory -- Garcia strolled onto Centre Court to watch Nadal, still wearing his Green Jacket. Given the unyielding career he's had, we can grant him such prolonged ebullience.
American golfers enjoyed themselves in 2017, with Brooks Koepka, Jordan Spieth and Justin Thomas all clinching majors.
The only American who can't win anything right now is Tiger Woods.
Laid low by injury, Tiger returned to the tour only in November, impressing at the Hero World Challenge in the Bahamas.
If his body holds firm, he will be a serious contender in 2018, but expecting him to regain his form of old would be fatuous. The usual suspects -- Spieth, Dustin Johnson, Jason Day -- will all be in the mix next season.
Hopefully, Garcia, too, can kick on after breaking his duck.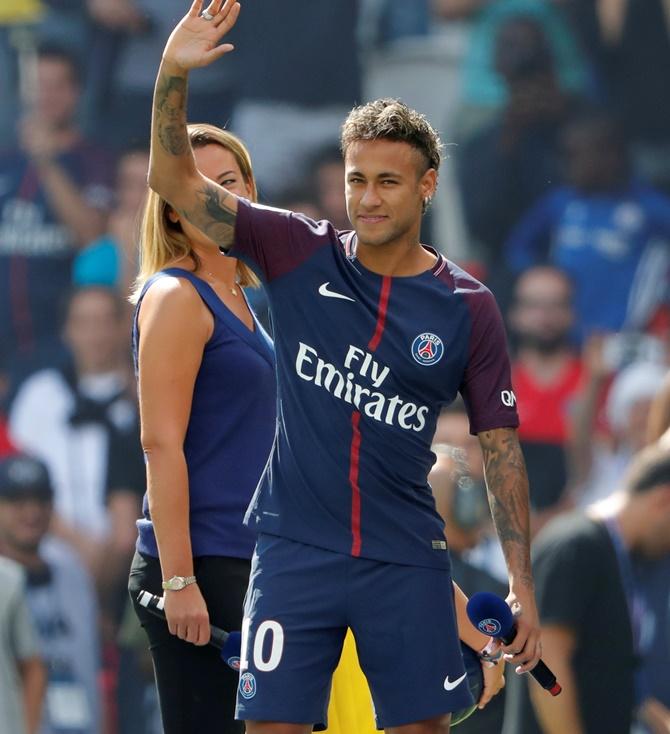 IMAGE: PSG's Neymar waves to fans during the presentation. Photograph: John Schults/Reuters
It may sound improbable, but there was someone happier -- and richer -- than Garcia in 2017.
The golfer pocketed $1.98 million for his Masters win; if that's got your head spinning, then you'd be forgiven for finding the mention of Neymar and Paris Saint-Germain a tad repulsive.
In the run-up to the new season, Neymar had apparently gotten tired of playing alongside mediocre talents such as Lionel Messi, Luis Suarez and Andrés Iniesta, and wanted out from Barcelona.
PSG paid the required $263 million -- short change for them, I'm guessing -- and offered Neymar the glorious opportunity to play in a league that is every bit as competitive as North Korea's electoral politics.
Ever since, the 25 year old has been treating Ligue 1 like the latest instalment of FIFA -- just that his feet have replaced the controller.
If playing at a significantly lower level can help Neymar win the Ballon d'Or, I doubt anyone will complain.
Truth be told, most people are tired of seeing Cristiano Ronaldo's hairless visage -- and shimmery earrings -- on the stage every year. Right now, even Messi will be a welcome change.
For these fellows, however, the World Cup in Russia will take precedence over any personal accolades.
The money and the opulence will all seem fair if Neymar can power Brazil to a sixth World Cup.
The Seleção, with a wealth of attacking talent, look like firm favourites, alongside Germany, Spain and Belgium.
For those who tune in to watch football once every four years and are understandably exhausted by the mere mention of Neymar, Ronaldo and Messi, watch out for Isco, Paulo Dybala, Leroy Sane, Philippe Coutinho, Eden Hazard, Harry Kane, Paul Pogba, Kevin De Bruyne and Kylian Mbappé.
De Bruyne deserves special attention simply because he can presently do things on a football pitch no one else can -- the holy trinity included.
It may be too early for this prophecy, but with him at the heart of Pep Guardiola's plans, Manchester City seem on the verge of pulling off the improbable: going through the entire Premier League season unbeaten.
Interestingly, Mbappé clocked an average speed of 36 kmph while playing for PSG -- yes, they signed him, too -- earlier this month.
That was just short of Bolt's 37.5 kmph when he set the 100m world record in 2009.
Mbappé wouldn't have required such a searing turn of pace if he were up against Bolt at the World Championships in August.
The Jamaican's retirement parade was rained on by Justin Gatlin, men's athletics' most seasoned dope offender, in the 100m.
If that wasn't crushing enough, the 30 year old limped off in his final race, helped over the line by his team-mates in the 4x100m final.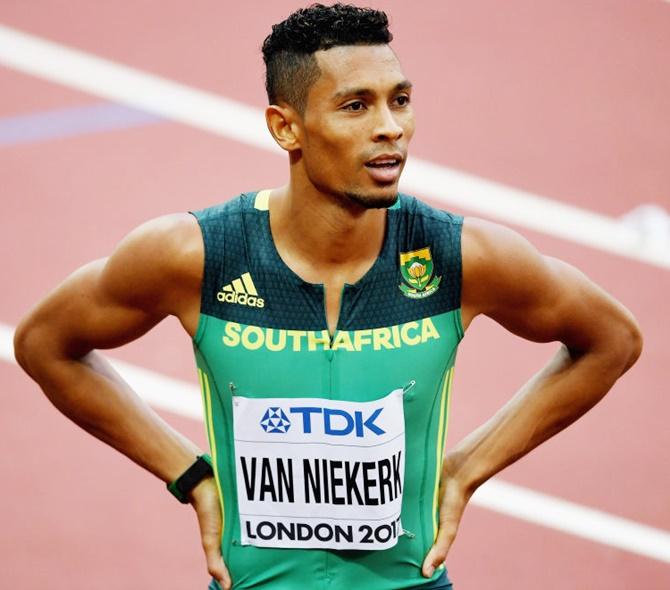 IMAGE: Watch out for Wayde van Niekerk! Photograph: David Ramos/Getty Images
Bolt leaves athletics in a precarious state.
Gatlin is in the soup yet again, with a newspaper investigation recently revealing that members of his team were willing to supply performance-enhancing drugs to other athletes.
For long, Bolt's extraordinary magnetism -- and blemish-free past -- pulled crowds into stadiums.
With Mo Farah also giving up the track to focus on road races, it remains unclear if anyone else possesses the hypnotic talents to convince people into believing that athletics is largely a clean sport.
Ability-wise, Christian Coleman, Andre De Grasse and Yohan Blake are capable of keeping sprinting attractive.
And with 400m world record holder Wayde van Niekerk keen on the 200m more than ever, things may not be so bad after all.
Van Niekerk's homeland, South Africa, is where the Indian cricket team is for its first assignment of the new year.
For a team that dominated at home this past season -- sweeping past opposition in all three formats -- the 'let's see if they can do it overseas' rhetoric has been let loose already.
Virat Kohli may have dismissed calls for the need to prove anything as unnecessary, but in actuality, any showing against the Proteas that is even remotely damaging will have the brickbats being flung all too easily.
However, this Indian side -- particularly the pace attack -- possesses the weaponry that can hurt the hosts.
If luck is on their side, Kohli and his men can make history in South Africa by becoming the first touring Indian side to win a Test series in the country. And you can expect them to seriously challenge England later in the year as well.
Among the batsmen, we can hope for Kohli to continue pulling out hundreds from his back pocket in the limited-overs format, and become more consistent in the longer.
I wish I could say the same about Australian Captain Steve Smith. I would resist that urge simply because if he starts scoring more in Tests, Don Bradman's position in the record books will be in grave jeopardy -- and that can't be good for anyone's sanity.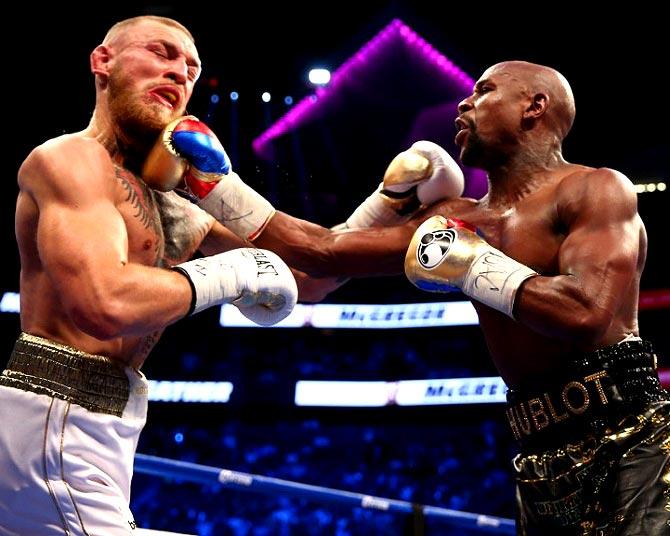 IMAGE: Floyd Mayweather, right, lands a punch on Conor McGregor. Photograph: Mark J Rebilas-USA TODAY Sports/Reuters
While there were some enjoyable examples of ridiculousness in 2017, there was one that that was characterised by pure idiocy.
It would be fair to say that Conor McGregor decided to take on Floyd Mayweather, Jr in the boxing ring simply for the money.
It ended in expected disaster for the Irishman, with Mayweather winning via a 10th round stoppage.
This year, serious boxing matters will hopefully replace buffoonery in the ring -- a much-anticipated world heavyweight unification fight between Anthony Joshua and Deontay Wilder is on the cards.
As for the athletes who lost their way in Venice, they would do well to give the 2018 Delhi Half Marathon a miss. It won't take a cretinous guide to make them go astray; the November smog will do the job.