'Olympic wrestling is like an old Nokia phone.'
'WWE is like an iPhone.'
The Great Khali's academy turns pro-wrestling dreams into reality, reports Dhruv Munjal.
IMAGE: The Great Khali with Jinder Mahal. Photograph: Kind courtesy CWE/Facebook
The green marble flooring looks unremarkable.
The vast room is brightened only by rays of sunlight glancing in through the rolled-up shutter at the entrance. The chairs -- not more than seven or eight of them -- are wobbly, the type without which a thrifty wedding party would seem incomplete.
Outside, the exterior walls are in dire need of a fresh coat of paint; the colours that make up the mustard-pink theme seem to be well past their expiry date.
It is here, in a structure that mirrors a smallish airplane hangar, far away from the razzmatazz that made him famous, that the everyday life of The Great Khali, India's professional wrestling trailblazer, now plays out.
His raspy -- sometimes indecipherable -- voice can be heard from through the meshed windows.
Inside, his hair curled up in a bun, Khali, dressed in a blue training vest, khaki trousers and impossible-to-miss size 16s, seems comfortable atop a table despite its tiny size.
Circling him are 30-odd youngsters, most of them burly men still in their 20s. They listen to him with the attentiveness of dutiful disciples, and not star-struck wrestling aspirants.
"It's the small things that will make you successful. Mere talent is just not enough," says Khali. His audience nods.
Seconds later, he welcomes me with a firm handshake as our driver enjoys a hysterical fanboy moment.
"I set this up so that young wrestlers can get the opportunities and training that I never did," says the 45-year-old Khali.
His now-famous battle with hardship early in life perhaps meant that the opening of a professional wrestling school -- the Continental Wrestling Entertainment (CWE) Academy -- was more a case of inevitability than choice.
A little over two years ago, soon after he had made India his permanent home following the expiration of his World Wrestling Entertainment (WWE) contract, Khali opened CWE in Jalandhar's Kangniwal village, a semi-urban zone marked by slick roads and expansive mustard fields. He started with just three students; he now has more than 250.
The rise in enrolment at CWE is a fair reflection of the swelling popularity of professional wrestling in Punjab.
In homes -- rural and urban -- across the state, watching WWE shows on television is a ubiquitous feature, one that has increasingly found more favour since Khali made his own WWE debut back in 2006.
It also coincides with the ascent of Jinder Mahal, a rakish entertainer who has established himself as one of the hottest properties in the WWE.
Mahal, an Indo-Canadian, is the nephew of Gama Singh, another former professional wrestler who enjoyed a stellar career as a wicked mainstay on Stampede Wrestling in Calgary in the 1970s and 1980s.
You need to have the overall package. The fact that you can fight won't get you too far. At the end of the day, you have to entertain.
"The craze is like never before. Kids now have started seeing this as a serious career option," says Khali, who has now climbed into the ring, posing for photographs.
After enjoying several years at the top of his sport, Khali well understands the qualities needed to truly excel at the dangerous art of professional wrestling.
"You need to have the overall package. The fact that you can fight won't get you too far. At the end of the day, you have to entertain," he explains.
That's why Khali set out to build not just a wrestling academy, but also an entertainment company that could resemble the WWE.
"Olympic wrestling is like using an old Nokia phone; it's fairly basic. This is like operating an iPhone; there are way too many elements."
The mobile phone analogy is Khali's last contribution for the afternoon. Soon, he departs for his siesta. "Don't disturb him now," I'm told.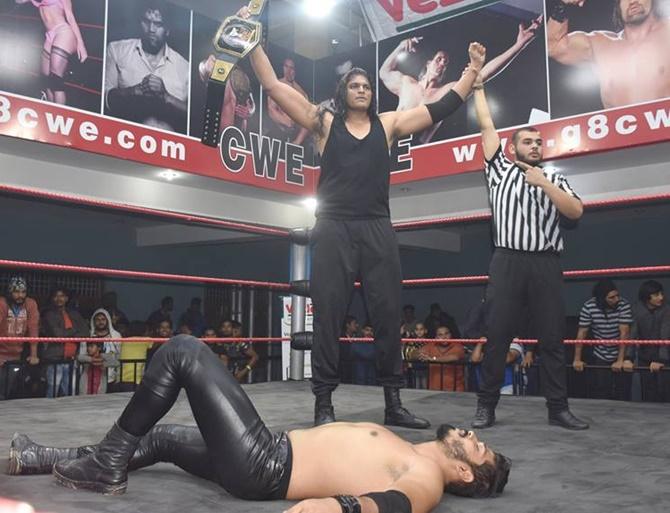 IMAGE: Gurvinder Singh Malhotra, at 7 feet, is almost as tall as Khali, minus his robust physique. Photograph: Kind courtesy CWE/Facebook
Gurvinder Singh Malhotra, 27, has a smooth, hairless face. He could, in fact, pass off as an ordinary 18 year old still in school. Till he rises from his chair.
Malhotra, at 7 feet, is almost as tall as Khali, minus his robust physique. "I'm still a work in progress," he smiles.
Folks here call him by his ring name, Shanky Singh. In fact, almost everyone here has a zany alter ego.
One of Malhotra's training mates is Inderpreet Singh, or Super Khalsa.
"Khali sir gave me the name. That's what everyone calls me now."
Before he earned his ring name, Khali went as Dalip Singh Rana.
It is evident that immense effort has gone into transforming Inderpreet's persona, one that suits his new name. Stocky and soft-spoken, his right arm is fully decked in tattoos.
Soon after he started training here, Inderpreet became the first CWE wrestler to get his own entry theme song, composed by his brother. He even has his own costume: black tights paired with a white T-shirt that has 'Super Khalsa' emblazoned on it.
"My father got me into wrestling, but it is Khali sir who made me a wrestler. The academy has made all this possible," he says.
Now 25, Super Khalsa is an Internet sensation -- videos of him fighting garner thousands of views. The adulation for Super Khalsa is rivalled by Shanky, the current CWE heavyweight champion.
A former accountant from Jagadhri in Haryana, Shanky's teenage years were spent coping with wholesale ridicule due to his abnormal height.
"I used to walk 10 km so that I could be the first one on the school bus. I didn't want to board it in front of the other students," he recalls.
When he goes back home now, people queue up to get selfies clicked. "I was about to try my hand at modelling before I took the wise decision of coming here. Life has really changed."
Every Saturday evening, Super Khalsa and Shanky Singh slip into their costumes, summon their evil twins, let their hair down -- literally -- and roar into the ring, all for CWE's weekly show.
Hours before the event kicks off, the academy undergoes a rapid metamorphosis: The ring lights illuminate the otherwise dim setting, security barriers are placed along the ring perimeter, LED screens and giant speakers are installed, and referees, announcers and commentators ushered in.
For a couple of hours at least, this makeshift wrestling venue and its buffoonish protagonists dazzle the village gathering made up of curious visitors who've always dreamt of catching a WWE Raw or WWE Smackdown show live.
Their number on most Saturdays is around 150; Khali likes to put that figure at 500. But given the paucity of space, the latter seems an unlikely scenario.
Such interest is further evidence of the Indian audience's fixation with the WWE.
In fact, according to Wrestler Observer Newsletter, India is the most lucrative target market for the WWE. More than 60 million viewers tune in to watch its weekly shows.
Many even saw the awarding of the WWE title to Mahal as the organisation's attempt at cementing a fan base in the region. Last year, WWE launched a weekly round-up show exclusively in Hindi.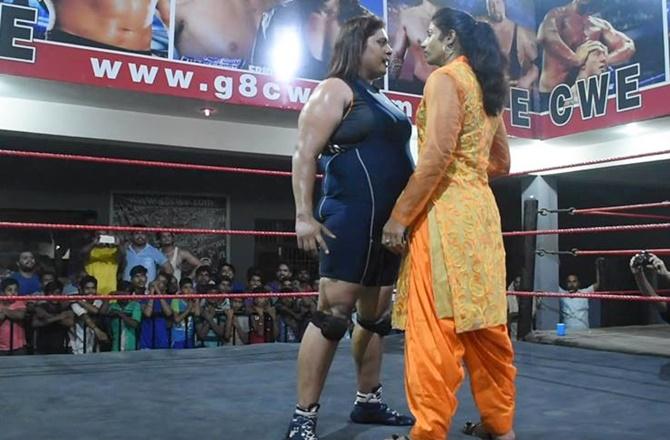 IMAGE: WWE has opened new doors for female wrestlers at the academy. Photograph: Kind courtesy CWE/Facebook
Even as Khali spurs the men on at CWE, the women's rise has been partially propelled by Kavita Dalal, or Kavita Devi.
A product of CWE, the 34 year old made her WWE bow earlier this year -- the first Indian woman to do so.
Ever since her debut, Dalal's orange salwar-kameez avatar has been turning heads in India.
Sarabjit Singh, or B B Bull Bull, an old ring adversary of Dalal's, says that her acceptance into the WWE has opened new doors for female wrestlers at the academy.
"We used to train together; I've fought her so many times. She has shown that it is possible to reach the highest level."
Ever since Dalal quit the academy, Sarabjit is CWE's ace performer in the female ranks.
For some of the younger girls, such as petite Divya Kumar, a 23-year-old former Bollywood dance teacher in London, "Bull Bull didi" is an inspiration; they seek her advice all the time.
Kumar, still just four months old at the academy, says she started out as a "delicate darling", but is now learning to beef up.
"Khali sir once made me do 15 bumps -- crashing against the canvas leading with your elbow -- and I fainted. I'm trying to get better now," she says with a hint of embarrassment.
But what made this girl from Singrauli, Madhya Pradesh, leave a well-paid job in London to take up a wrestling course in a faraway pastoral setting?
"I grew up watching this on television. When the academy opened, I saw it as a chance to try my hand it at. It's really exciting."
While Kumar is also a former national handball player, other young hopefuls who walk in here are mostly weightlifters or powerlifters.
With many of them medal winners in their respective sports at the national level, they say that money and fame act as prime motivators now.
"How long can you keep languishing there?" wonders Sarabjit. "Professional wrestling gives us recognition."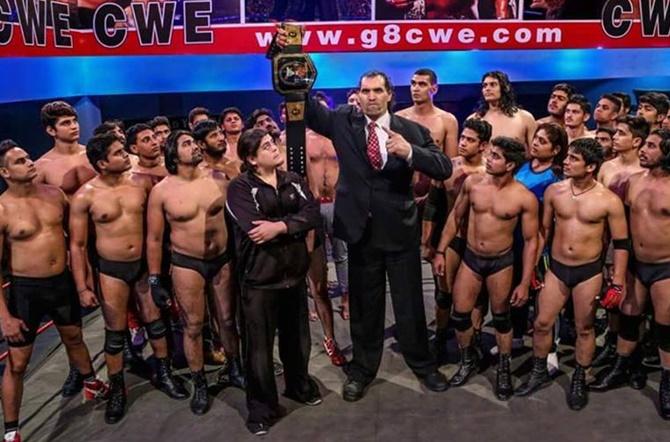 IMAGE: Circling Great Khali are youngsters, most of them burly men still in their 20s. They listen to him with the attentiveness of dutiful disciples, and not star-struck wrestling aspirants. Photograph: Kind courtesy CWE/Facebook
Passion here is supplemented by monumental parental support. Since the wrestlers here make virtually no money, the lack of family backing can sometimes prove a hindrance.
"When you don't know when you'll start earning, such support becomes everything. My father still pays my fees here," says Delvinder Singh, 25.
Training at CWE doesn't come cheap.
Coaching, food and lodging -- the building's second floor has rooms that can accommodate about 150 people -- costs Rs 23,000 a month, a hefty sum for a place that offers the bare minimum for a professional wrestler.
The gym upstairs is by no means state of the art and, apart from Khali himself, only one coach is at the trainees' disposal.
Such limitations, however, fail to dampen their ambitions.
Forty of them appeared for trials when WWE executives Norman Smiley and Canyon Ceman landed in Jalandhar. A handful of them -- Shanky included -- also took part in the WWE Dubai trials last year.
"The trainers were really impressed with me last time. They just told me to work on a few things. The result will hopefully be different this time," says Inderpreet.
We have to understand that everyone can't make it to America. I'm trying to offer a good alternative
Khali, now back in a white shirt with his name embossed on the cuffs, explains that CWE must not be seen only as a springboard to the WWE.
"We have to understand that everyone can't make it to America. I'm trying to offer a good alternative," he says.
Apart from Punjab, CWE is now planning to do shows in Uttarakhand and Rajasthan as well. The students, too, represent different states.
With him becoming the subject of a new film, Khali would be hoping that the makers could cover this aspect of his life too.
"I have been approached by a production house, but it's too early to give out any details," he says.
He even puts the rumours of Sushant Singh Rajput portraying him on screen to an end. Ask him who he thinks would be the ideal candidate to play him, Khali replies with a sheepish smile, "Aamir Khan."
It's fair to say that it will take prosthetics of the highest quality and some wondrous cinematography to make Khan look like him.
But as Khali himself has shown over the years, anything is possible in his world.