From a life built on challenges and studded with victories, India's beloved chess legend, Viswanathan Anand plucks out a few important lessons.
Videos: Satish Bodas/Rediff.com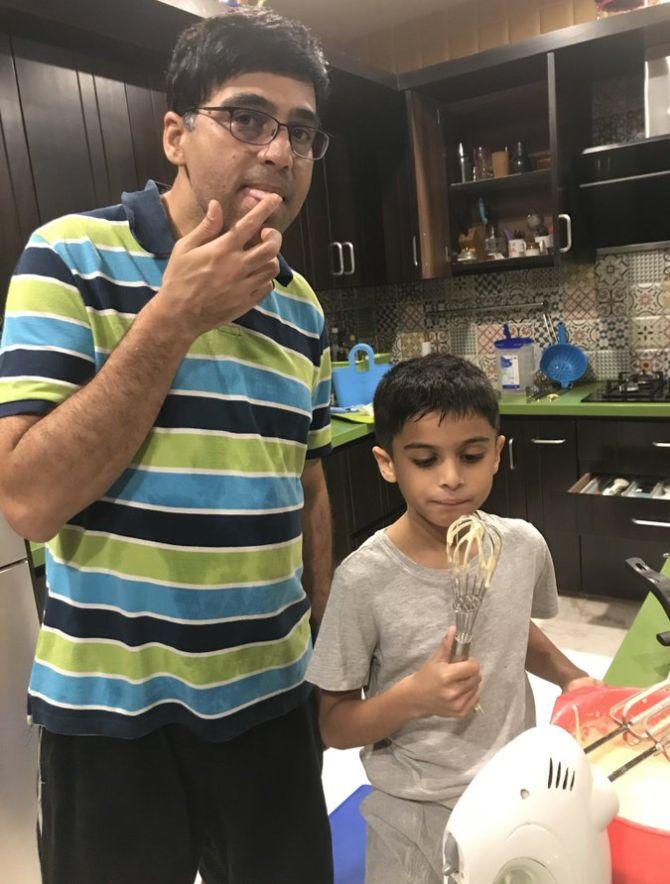 Don't be fooled by his shy smile and disarming candour which hides a brilliant brain.
Which is why when one of the world's best chess players has something to say, everyone wants to listen.
Also, he has a tendency to do things differently.
Like, when he decided to capture his life in a book -- which he chose to title Mind Master: Winning Lessons From A Champion's Life -- Viswanathan Anand did not want to do it in typical chronological format. Instead, here's what he did.
And he even peppers this introduction with some peppy anecdotes.
Watch!
His mother Sushila had a huge role to play in both his career and his book. And what that role was -- besides the fact that she was his first chess teacher -- he reveals in this next video.
He also shines light on the tenacious journey led to him representing India in chess. It's a story many people have forgotten, but Anand explains how it laid the foundation for a solid career.
Anand was just 14 when he won the national sub-junior championship in 1983.
A year later, he won the Asian Junior Championship and represented India at the 26th Chess Olympiad.
By the time he was 15, he was an International Master and, at 16, he became the national chess champion.
At 18, he was India's first Grandmaster and was awarded the Padma Shri.
But the challenges faced by today's chess players are different, Anand explains in the video below.
The emergence of more female chess players is what Anand finds heartening about the game in India today.
But he points out that while chess is cerebral, it need not always be a gentleman's game.
Finally, Anand gives his take on how India fared in three sports in 2019 -- cricket, the sport India is craziest about; badminton, which has found its spot in the sun thanks to players like P V Sindhu and, of course, the sport that has crowned him Grandmaster five times, chess.
And it is the country's, and his performance in the latter, that he finds a tad disappointing.
Watch.