Aruna Anand speaks to Rediff.com's Shobha Warrier.
Viswanathan Anand is the reigning World chess champion. He was crowned in May, after beating Veselin Topalov in the final game of the 12-game championship, in Sofia, Bulgaria.
The 40-year-old had won the world title twice before, in 2007 and 2008, becoming the first player in chess history to win the world title in three different formats: Knock-out, tournament and match.
Whenever he plays, there is an Indian flag beside him; each triumph is followed by the strains of the Jana Gana Mana.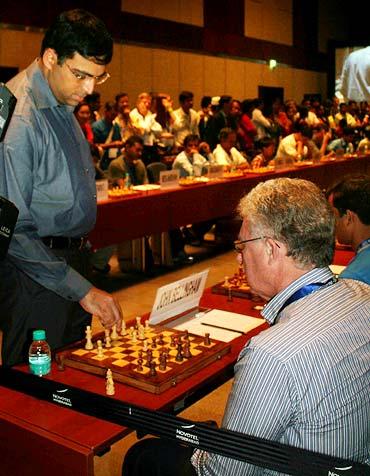 It came as a surprise when the Union human resources development ministry raised doubts about Anand's nationality and did not clear a file from the University of Hyderabad to confer an honorary doctorate on him at the International Congress of Mathematicians.
"In July, they had asked for a copy of his passport because they were not sure about his nationality. We did send them a copy of his passport. I thought the matter ended then, but, apparently, it did not," his wife Aruna told Rediff.com
She said Anand, who lives in Spain, was unaware of the enquiry at that time because he was traveling, but it was quite "irritating that something so basic had to be questioned."
"I don't know what the issue was. I had already sent the passport in July. I don't know from where they get the impression that he is not an Indian. Anybody who has seen a photo of Anand playing will see an Indian flag beside him. And, when he wins, the national anthem is played. What more proof do you need about Anand's nationality?"
Asked if Anand was disturbed by the HRD ministry's attitude, Aruna replied, "I don't think we were disturbed in any way. We found it so bizarre. We were quite irritated that they have to ask these kind of questions. Even after sending a copy of the passport they didn't consider it proof enough. What more can you give? Anand has only one passport, and that is an Indian passport."
She expressed hope that all doubts are cleared now that HRD Minister Kapil Sibal called Anand on Tuesday and apologised.
"I think we will let the matter rest now," she said.
Image: Viswanathan Anand takes on 40 chess players at the International Congress of Mathematicians in Hyderabad on Tuesday. Photograph: Snaps India