'My homage to him was the medals I placed in his hands to bless each time I was able to win them.'
'And the abiding love and respect I will always have for him.'
Roopa Unnikrishnan, Arjuna awardee and Commonwealth Games gold medalist, pays homage to her coach AJ Jalaluddin who passed into the ages recently.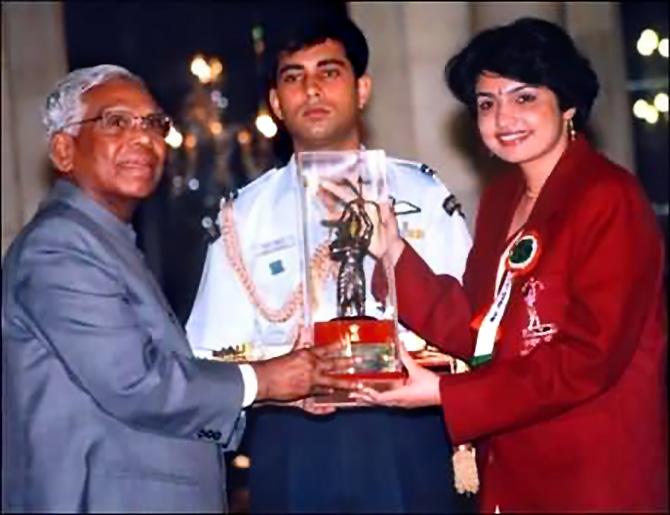 Yesterday, I received the sad news that my beloved coach, AJ Jalaluddin, had passed on.
It's a sad irony, or perhaps a fitting tribute, that it's also the day I was invited to be part of the US Advisory Board of Olympic Gold Quest, the organisation that has invested in bringing great Indian sporting talent to the fore, to win Olympic medals for which to invest in a broad group of athletes with the goal to win accolades for India.
Jalal uncle and I were our own personal OGQs (Olympic Gold Quest) -- our gold quest would bring commonwealth, SAF and Asian shooting medals for India and me, and teach me the value of a truly generous heart and mind.
In my book The Career Catapult, which I dedicated to my parents and Jalal uncle, I talked about the wonderful lessons he taught me.
"Learn from the last shot and keep going."
That is how Jalal uncle put it, and it is what the sport teaches.
Olympic-style shooting competitions had you shooting 60 shots in about as much time - an hour and 15 minutes.
The goal was to shoot right through the centre of the target -- the 10 ring -- aim, breathe, account for wind and other factors, squeeze the trigger, follow through and then look through the telescope to see where the shot landed.
Get to be excited by a 10 and you risk raising your heart rate and messing up the next shot, get too dismayed by a bad shot and you don't focus on the next shot.
This is yogic non-attachment at its best! And as I would fret, he would remind me that what's past is past, now was the time to focus on the next shot.
Put one foot in front of the other, and the journey is no longer insurmountable.
As I dealt with tough personal news along the way, he would have me focus, breathe and above all else, never let anyone see a tear in my eye.
Laser-focus and steely determination would always win.
Jalal uncle had uncompromising principles, and that won him respect and made him a stand out as well.
I know he watched the world with some bemusement, and true detachment.
When he took me under his wing, and out of the goodness of his heart put the hours in to coach me and my fellow shooting buddies, he did so because he believed in the sport and our potential.
My homage to him was the medals I placed in his hands to bless each time I was able to win them.
And the abiding love and respect I will always have for him.
At a time when few resources were available for any sports, let alone one as rare and rarefied as rifle shooting, he made sure that I had access to cutting edge thinking in the sport.
He had to play the role of technical coach, sports psychologist, nutritionist and fitness coach -- and he did all this purely out of his conviction that this was the right thing to do for me and the sport.
It was an abiding sadness for me that he never received the accolades that should rightly have been his.
He raised two generations of shooters at Tamil Nadu's Madras Rifle Club, and represented our country at the International Sports Shooting Federation with clarity and purpose.
A gentleman and an expert -- they truly do not make them like him any more.
The world has lost a true gem -- and I wish him godspeed in his celestial journey forward.
Roopa Unnikrishnan is an Arjuna awardee and Commonwealth Games gold medalist, and a multiple Asian-level and SAF medal winner in Rifle Shooting.