'Thanks to them, I have enough money to run my house for three months at least.'
One can sense a smile in her voice while speaking to athlete Prajakta Godbole over the phone.
Prajakta, who represented India at the World University Games in Italy in 2019, has had a rough two months since the national lockdown began in March.
The 24 year old, who lives with her parents in a slum in Nagpur, fell on hard times because of the lockdown.
But life is looking up for Prajakta.
Rediff.com readers have rushed to help Prajakta after this report was published on May 13.
"We barely had anything to get by during this lockdown," Prajakta tells Norma Godinho/Rediff.com. "We have a BPL card for rations. We were surviving with that, along with a bit of my savings."
"Last month, I asked local officials and a couple of people in my locality, those working in high posts, to help me with some money or food, but they refused," Prajakta adds.
"I thought it pointless to keep begging. But by sheer luck or the grace of god, I got a call from a local journalist who called to ask about my well-being and that is when I narrated my plight to him," she says.
"After the article appeared, I have received rations from unknown people. One sports academy from Nagpur has also given me rations," she adds.
"In the last five days, I received calls from people outside Nagpur who came forward to help me with money. Mumbai aur Bangalore se kaafi sansthao aur logon ne maddat ki hai (People and organisations from Mumbai and Bangalore have helped me). I want to thank all those people who helped," she says.
"Thanks to them, I have enough money to buy groceries and run my house for three months at least," says Prajakta, clear relief in her voice.
Prajakta lives with her elderly parents and the family has always been hard up.
Prajakta's father, who is about 60 years old, used to work as a security guard until an accident a few years ago left him with a permanent leg injury and rendered him jobless.
"I have been running the house for the last eight years with my winnings and participation money from the many marathons that I have participated in," the athlete says.
"My mother works as a cook. Whenever there would be a function, she was called in to work. She would work 12 hours a day and earn about Rs 600 a day, roughly Rs 3,000 a month. Since the lockdown started two months ago, she has not had any work," says Prajakta.
"We would get some grain, lentils from the ration shop, but that would barely suffice. I was on the verge of running out of my savings," the youngster reveals.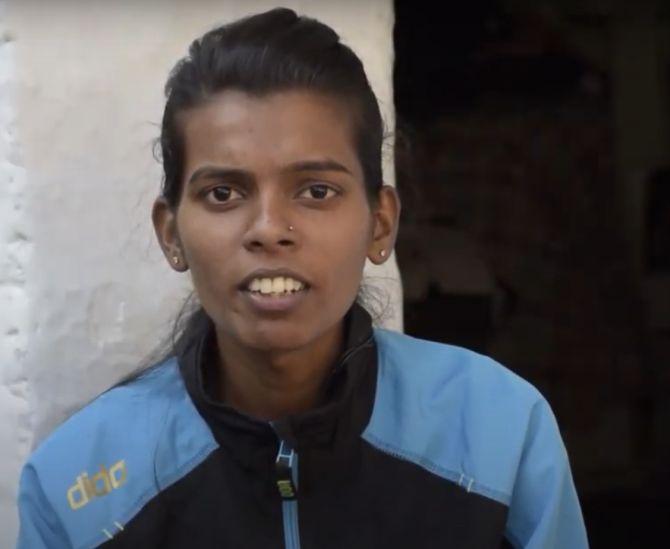 The lockdown has also had a massive impact on her training and diet.
"My monthly expenses are about Rs 15,000. This includes my diet and shoes," says Prajakta who finished second in the Tata Steel Bhubaneswar Half Marathon earlier this year with a timing of 1:33:05.
Completing her final year BA through distance learning at the R M Patel college in Bhandara, Prajakta is keen on pursuing her athletics dreams.
"I have been in athletics in 12 years. I started running in school but I had no knowledge back then. Then the local marathon organisers saw that I have some talent and asked me to run in local and inter-state marathons," she says.
"My focus is on the 21km and 42km marathon," she says. "I have run the Vasai-Virar, Hyderabad, Kolkata, Chennai and Aurangabad marathons. I want to represent India at the Asian level and bring home a medal."