The brain may be sharp as ever, but the legs seem heavier, the pace worryingly slower. He's still only 32, but the strain of a decade-and-a-half of paranormal activity on the pitch may just be piling up.
Dhruv Munjal captures the pain and ecstasy of being Messi.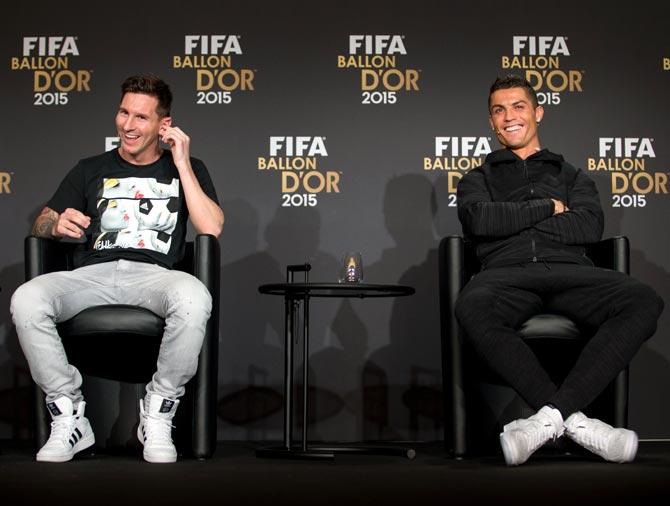 This month 19 years ago, a frail 13-year-old Lionel Messi left his hometown of Rosario for Barcelona, the city and club that would mark him out as the greatest talent of our times, of all times.
A few Mondays past, on a night of redemption and razzmatazz, he was named by Fifa the world's best, the first such award to go with a record-tying five Ballons d'Or.
Where was ever the doubt? Virgil van Dijk was a worthy contender, the Liverpool defender who inspired his team to a Champions League crown and tamed offences with his understated skill-set of ceaseless discipline and fiery leadership, but could only land second place.
Cristiano Ronaldo, who was nursing an injury and couldn't be there, finished third, his Serie A title win, and Nations League glory with Portugal deemed powerless to stop the juggernaut that was Messi last season: 51 goals, La Liga title, European Golden Boot, best beard since W G Grace, most doting Dad since Robin Williams in Mrs Doubtfire, etc, etc.
Individual award gatherings such as this are normally vain occasions, pompous marketing campaigns that habitually pit apples against oranges, routinely trivialising a glorious team sport by honouring a select few individuals.
How do you compare Messi, a prolific forward, to van Dijk, an industrious centre-half, anyway? It is entirely pointless.
But it does make everyone look good. None more than Fifa itself, which is still trying to turn around its wretched image of an organisation rife with corruption, a sporting body now desperate to uphold the highest standards of probity in the public eye.
And in Messi, they had on stage football's perennial poster boy, the global hype machine that forever delivers, the proverbial nice man blessed with the most coruscating ability. Gimmicky it may have been, but there is little denying that the prize was thoroughly deserved.
Ideally, this should have been cause for great celebration. Ronaldo managed to get his name on this award in 2017 and 2018; this was Messi's first individual gong at any such event since 2015.
Yet, it felt a little flat -- a kind of weird acknowledgement that podium outings at these glitziest of galas from now may not be as frequent. Not quite a sense of an ending, but a very palpable fear that the best may have passed.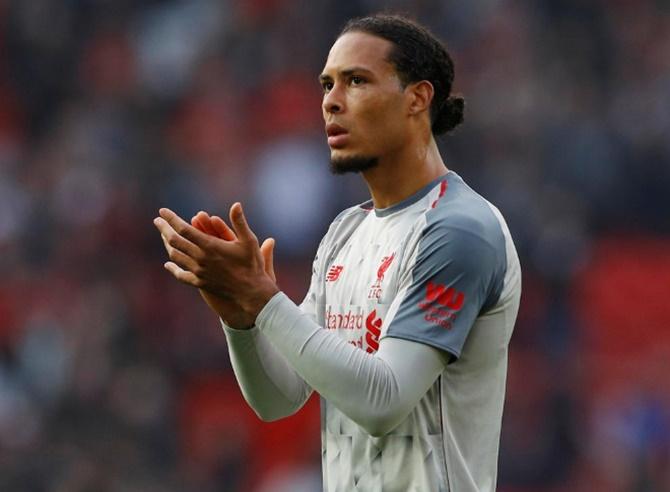 Messi was astonishingly good last season. His performance against Tottenham at Wembley in the Champions League was football of the gods; pure, unadulterated magnificence that bent the laws of physics and made Spurs look miserably helpless on a night when they weren't actually that bad.
Against Liverpool in the first leg of the semi-final, he turned up, mind willing, legs whirring, curling the most delicious of free kicks past Alisson, the opposition's Brazilian keeper who made the team of the year alongside Messi in Milan on Monday night.
But that's as good as it got. Barcelona, destined for the treble after a comfortable first-leg win against Liverpool at Camp Nou, were knocked out in a sensational comeback for the ages in the reverse fixture.
Defeat in the Copa del Ray final followed, and Messi's own form took a turn for the worse.
At the Copa America, Messi drifted in and out of games, white handkerchief performances that have come to typify the Argentine skipper's international career.
Argentina somehow finished third, but never quite looked like going all the away -- the players seemingly akin to a large group of Bentleys and Aston Martins trying to harmoniously co-exist in a small garage.
This season, Messi has barely got off the bench, admitting that he is "tired" and "sluggish" and lacking that "spark".
After missing the first four league games this campaign, Messi started against Villarreal earlier this week, only to hobble off with an abductor problem early in the second half.
The brain may be sharp as ever, but the legs seem heavier, the pace worryingly slower. He's still only 32, but the strain of a decade-and-a-half of paranormal activity on the pitch may just be piling up.
Some years ago, when Ronaldo made peace with his vanishing pace on the wing, he switched to the middle, turning into a centre-forward reliant on his natural gift for finishing.
Messi isn't as versatile as Ronaldo; he is one-dimensional, the most devastating one-dimensional athlete modern sport has perhaps ever known.
But at his age, that's also a challenge, a constant pain to adapt to an ageing body that has evidently seen better days. With an altered role, his dazzling effect will most likely remain, his staggering numbers may not.