Has former Real Madrid and England manager Fabio Capello put an end to the Messi vs Ronaldo debate?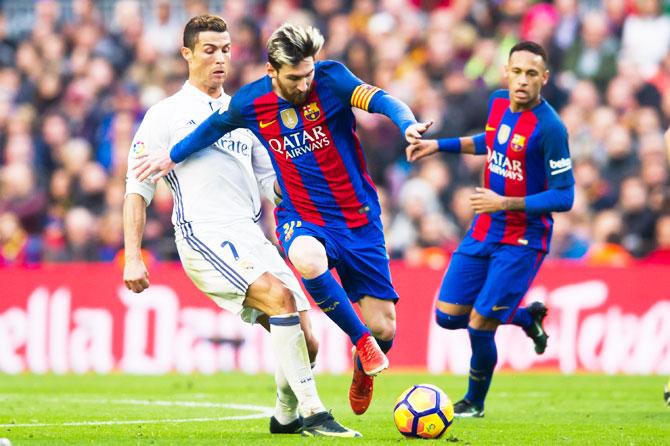 IMAGE: FC Barcelona's Lionel Messi wins the ball past Real Madrid's Cristiano Ronaldo during their El Clasico La Liga match at Camp Nou on Saturday. Photograph: Alex Caparros/Getty Images
Former England and Russia coach Fabio Capello says Cristiano Ronaldo deserves The Best FIFA Men's Player 2016 award, but states that Lionel Messi's superior ability puts him on another level.
- El Clasico PIX: Ramos strikes late equaliser as Real Madrid hold Barca
The Real Madrid striker and the Barcelona No10 are among the final three nominees for the honour, alongside Atletico Madrid's Antoine Griezmann.
"Yes, certainly he's (Ronaldo) my favourite for the year," Fifa.com quoted Capello telling Spanish daily AS.
"He was instrumental in Portugal winning Euro 2016 and Madrid winning the Champions League. He'd be the worthy winner," the former Real Madrid coach said.
"However, when we talk about geniuses then that's a totally different debate. It's simple: Cristiano Ronaldo is a great goal-scorer but he doesn't have the brilliance of Lionel Messi. Messi at the age of 17 or 18 was a genius; Cristiano was a good player who improved through hard work and effort and has become an excellent forward.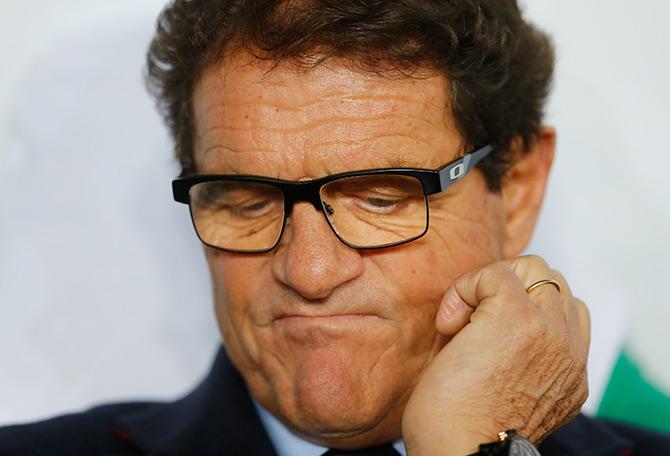 IMAGE: Fabio Capello. Photograph: Laszlo Balogh/Reuters
"Cristiano is not just a great player but an excellent one, but he doesn't have that ability to mesmerise or pull off moves that are unimaginable. That, for me, is the difference."
The Best FIFA Men's Player will be crowned at The Best FIFA Football Awards ceremony in Zurich on 9 January 2017.
Messi was among the ten nominees for the FIFA Puskás Award, thanks to his breathtaking free-kick for Argentina against USA at the Copa America, but he did not make the final three.